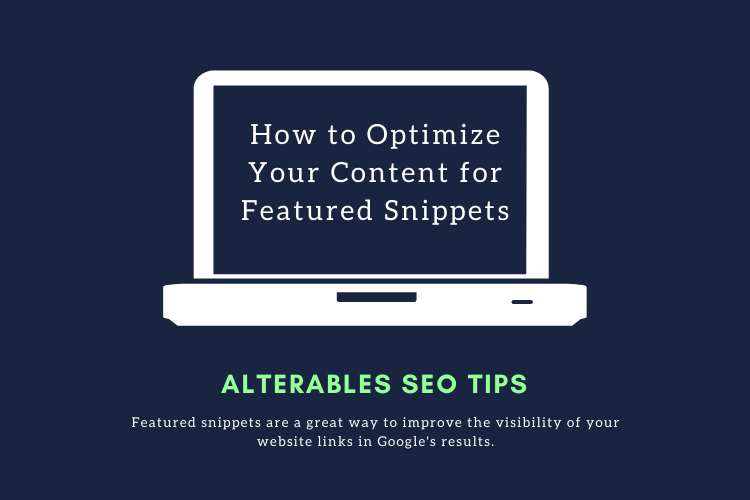 One of the best ways to attract traffic to your website is through featured snippets.
A featured snippet is a small part of content that appears at the top of an organic google SERP (search engine results page). Featured snippets are search results that are selected and featured on top of Google's organic results just below the ads.
They aim at answering the reader's question at a glance and being featured is important because it adds to your brand exposure in the search engine results.
For web users, featured snippets make online searches easier since people get to see the answer they are looking for at a glance.
Google chooses to display the best answer from third-party content as a featured snippet.
Here are the three most common types of featured snippets:
Paragraph


This is the most popular snippet. It provides the user with a brief definition of the topic they are searching for.
It aims at answering the question; why, what and how. This snippet is designed to give users a direct definition, description or information in a box just below ads.
Table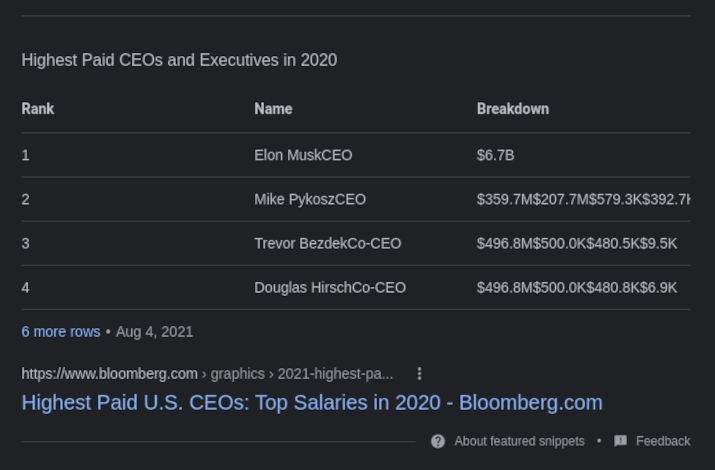 This snippet features data in a table. It helps users to compare and visualize different types of data.
List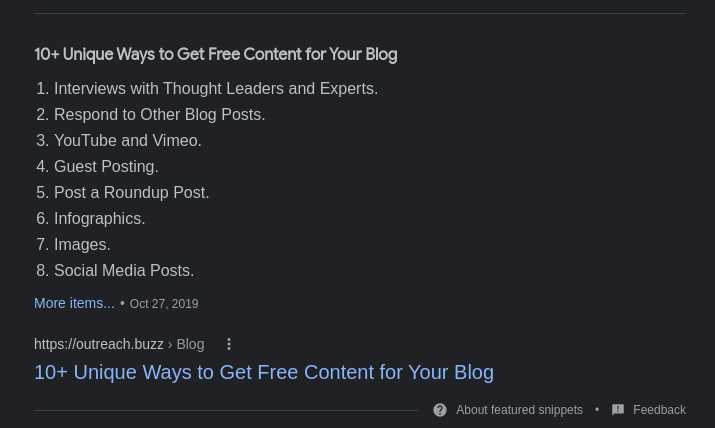 This snippet can be used to show how things are ranked in list form.
It is an effective way to elaborate the steps of a process in the order of occurrence.
The Best Ways to Optimize Your Content
Optimizing for featured snippets is a great way to improve the reach of your content.
There are several easy ways you can optimize so that more people find and click on your website link in Google's search engine results pages (SERPs).
Know the question your reader is asking
Most readers use questions in their searches such as what, why, and how. A good understanding of how the user may apply the question will help you to tailor your content to the best suit.
Also, check out the "people also search for" section. This procedure will definitely offer you more opportunities to expand on your topic. It will enable you to tackle many questions with relevant answers in your blog post.
Produce Informational Content
Your content needs to answer the question of your readers. Make your content easily available to the crawlers for it to be featured as a snippet. Provide and package your information in a way that people will easily locate it in their search.
Keep in mind that your readers are searching the most relevant information – not just information. Strive to meet their expectation through your content.
Create High-Quality Comprehensive Content
Ensure that your content is of high quality and easily readable and relevant. This will ensure that it is available to a wider range of readers.
To make sure your blog post contains a wide range of useful content, you need to find out what searches are being made by people on Google.
You can do this fairly easy by looking at the rankings for popular keywords in different industries and topics.
Ensure that the answer is clear on your page, has lots of supporting information from other websites and contains related keywords throughout it.