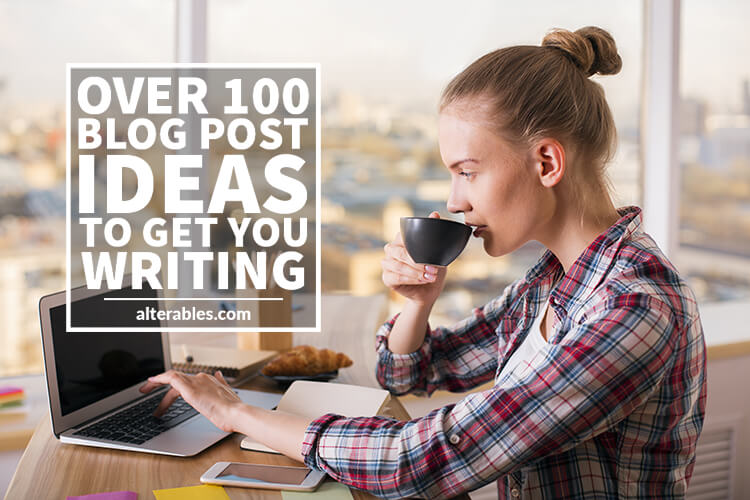 Blogging is fun and is a great way to build your brand and develop a following. But in order to attract an audience, you need to post regular updates.
Are you stuck about what to write about? Here are over 100 blog post ideas that I hope will give you some inspiration for your next blog post.
—-
111 Blog Post Ideas
Home and Family
1. Gardening – How does your garden grow? Write about your gardening successes and failures.
2. Commuting – Do you have a substantial commute to work or none at all? Write about your theories of commuting and invite your readers to tell you about theirs.
3. Children – Are you planning a family, already have one, never want one?
4. Cable Providers – Cable companies are local and most people strongly dislike their cable company. Encourage your readers to reply with stories about the villainy or heroism of their cable company.
5. Share Photos – Start sharing photos of your life and invite others to do so as well.
6. Run a photography contest – People are already sending you photos, why not run a contest for the best photo in a variety of categories? The prize can be running the winning photo for a certain number of weeks in your blog.
7. Ask for Help – Do you have a project around the house that you should be finishing but have put off because you don't actually know how to hang sheetrock? Ask people for instructions.
8. Neighbors – Do good fences make good neighbors or are you best pals with the people in your neighborhood? Would you like a closer or more distant relationships with them?
9. Cooking experiments – Do you mix it up when cooking? Why or why not?
10. Cast Iron Cooking – Very popular now for health and convenience reasons…where do you stand?
11. Home Baking – Is home baking part of your family culture?
12. Household tasks – Every living situation requires upkeep…Can you create blog posts about the tasks you hate/like/don't mind?
13. Cleaning product smells – Some people can not stand the smell of even the mildest; others think they all smell clean.
14. Febreeze – Does not clean clothing! Write about how some people spray clothes with Febreze in lieu of doing laundry.
15. Children Learning to Cook – Do you encourage your children to learn cooking before they head out on their own?
16. Pets – Few of us get through life without owning a few pets. Do you love 'em or hate 'em.
17. Family physical activities – Do you all throw a football around in the yard? Participate in local runs together?
18. Mr./Ms. Fix-it – People who own houses are either very good at fixing things themselves or good at calling others to fix things…which are you?
19. Food Fights – Does the household divide into food camps? Some like plain, some spicy, some nothing at all?
20. Survival Skills – What survival skills do independent young adults need? Laundry? Checkbook?
21. Writing checks – Who writes checks these days? Does your checkbook ever leave your drawer?
22. Decorating – Is your space decorated or do you just live there? Blogging about decorating would seem to open up many different posts, just from the sheer number of combinations of tastes and sytles available.
23. Household Responsibilities – What tasks are your children responsible for around the house? Do they know how to clean?
Create Posts around Hot Topics
24. Donald Trump – Whether you love or hate him, he gets people talking. Bring up one of his positions and ask for feedback. I'm sure you will get plenty of responses!
25. Hilary Clinton – Likable or not?
26. Vice President – Does it matter who it is? Does the VP bring in votes in the general election?
27. Endorse – Write a list of reasons for endorsing a candidate for president and invite replies.
28. Elections – We all have local elections, but is there ever a real change of government in your town? Has one party been running the show for decades?
29. Government – People love to hate their local government. Use stories of yours to elicit comments/replies.
30. Wedding Gifts – Many couples hope all their gifts are the folding variety; many guests think money is a gauche gift.
31. Student Debt – Difference between today's and your debt. Encourage comments.
Technology
32. Apps – There's a new one released every minute. Which do you like and loathe?
33. Mobile phones – Is your phone always with you? It is a blessing or curse or both?
34. Phone Locator Indicator – Too intrusive? Excellent tool for finding your friends?
35. Favorite Web Sites – What online places do you regularly haunt?
36. Plugins – What plugins do you use on your blog? What makes them so great?
37. Preferred OS – Apple/Windows/Linux. Which do you prefer to use and why?
Sports
38. Baseball – Opening day is upon us. Do you follow a team, root against a team, hate the sport entirely?
39. NCAA Basketball – Do you follow the NCAA basketball tournament? Write about the big victories or surprising defeats of various teams. People will fill your inbox defending their home favorites.
40. Running – The world is filled with people running. Come up with blog post ideas about your experiences with or without running.
41. School Sports Traditions – Most towns have one sport or another at which they excel. Is this true in your town and what is that sport?
42. College vs Pro Football – Which is your favorite? Love both? Why?
Post about the Olympics
43. Olympics thoughts – Overview of your feelings/opinions about the Winter/Summer Olympics.
44. Olympic Coverage – Do you love or hate the coverage? Are the announcers too much with us or just enough?
45. Events – The foundation of the summer games is the track and field events but you could write about some of the more off-beat events such as dressage.
46. American Participation – Research a bit about competitors who are expected to do well and write about their training, hometowns etc.
47. Sponsorship Contest – Offer a small prize to the reader who can list the largest number of Olympic sponsors.
48. Judged Events – Does anyone like judged events and should they be part of any Olympic games, winter or summer?
49. Swimming – Are all the swimming races the same and do we really need to have an event for each distance or would one big contest do for all?
50. Team Sports – Write about if the team sports are really Olympic style competitions.
51. Zika Virus – The Zika virus was active in the region of the summer games. Should we have considered pulling out to protect our athletes?
52. Opening Ceremonies – Usually the opening ceremonies are long and boring. Can we expect any better this year?
Entertainment Blog Posts
53. Review a Current Movie – Sure, there are experts of all kinds of reviewing movies, but none of them have your unique vantage point.
54. Touched by Celebrity – Have you had any close contact with a famous person? Maybe Mick Jagger brushed by you on the street or you were at the Stone Pony when The Boss played there one night.
55. Video Games – Almost as many adults play 'em as kids; love 'em/ hate 'em?
56. Reality Television – Do you love or hate it? What do you follow?
57. Movie Lists – Dive into your memory and list your favorite movies in different categories such as sports, young love etc.
58. Book Lists – Books that you loved from your youth; books that were school assignments that you disliked.
59. Recently Deceased Celebrities – Invite memories from readers.
60. Old Television Theme Songs – Have a contest to see which ones people mention most.
61. Visit TV Land – Watch some old shows from this station. What are your thoughts?
62. Blog about Guy and Gal Movies – The genders tend to have different opinions about movies; what movies do they both like/dislike?
63. Movie Volume – The volume of movies has increased in recent years; some people wear earplugs just to be able to sit through a movie.
64. Music – Is there a music battle in your home? What do you like and what does your partner/children like?
65. Dante – Considered the world's greatest poet…where do you stand? Ever read any?
66. Popular TV Shows – Who will be the next to die on The Walking Dead or Game of Thrones?
Travel and Leisure Blogging Ideas
67. Trips – Write about a trip, recent or in the distant past. Pick an incident as your focus.
68. Vacations – For some years in the current economic climate, many people who used to vacation don't…what do they do instead? Local trips? Nothing?
69. Air Travel – Since the airline crises over 15 years ago, the airlines have added more and more seats to their planes; is this too uncomfortable? Are they asking too much money for such small spaces?
70. Cars – American love cars. Do you love your current car? what is your dream car and do you think you will ever own it?
71. Weekends – Are your weekends for activities or rest?
72. Relaxing – Stamp-collecting? Cleaning silver? Watching television? How do you spend your disposable time?
73. Disposable Income – Where does your after expenses money go? Dining out? Attending sporting events? Purchasing Hummels?
74. Collecting – Write about your opinions about collections…what odd collections do you know about? Do you collect anything?
75. Beaches – Where do you go to the beach? List your favorite spots.
76. Ocean Swimming – Do you love the beach but never enter the water? What's that about?
77. Pool Swimming – Do you think pools are dirty and never venture in? Do you prevent your children from doing so?
78. Board Games – Does anyone play them anymore? Which did you like or do you like now?
79. Weddings – Some people seem to be invited to many weddings, others to none; which are you?
80. Martinis – Not long ago martinis were only seen in old, black and white movies but now few wedding receptions are complete without a martini bar.
81. Anxious Travelers – Do you like to be there but dislike the trip? Are you anxious or clam?
82. Back Seat Driving – Is one of your the navigator and the other the driver? Does that work or annoy one of you?
83. Car Maintenance – Who's in charge of keeping the cars running? Is one person always making trips to the repair shop?
84. Family Picnic – Do families picnic any more?
85. July 4th – Do you watch a parade? What are your parades like? Does everyone in town participate?
Work and School Blog Post Ideas
86. Jobs – Write about your dream job and the job you actually have.
87. High School Employment – Do your high school kids have jobs? Do they have time for jobs? Do you want them to work?
88. Clean Your Room! – This scream reverberates throughout households all across the country…did you teach your children how to clean their rooms?
89. Schools – Even if they are well reviewed by objective analysts, what is your feeling about your local school system; what do you like/dislike.
90. Teachers – Every school system has teachers that are beloved. Who is this in your system and is that affection deserved? Use fictional names for this of course.
91. Favorite Classes – Even if you're not in school anymore, you must have a ton of school stories; share them and invite others to do so as well.
92. Unstructured Learning – What have you learned or taught yourself outside of a classroom? Do you seek to add to your skills/knowledge this way?
93. Language Education – Some schools require language education but few of us or our children ever really learn a second language.
94. FAFSA – Do you need to complete a FAFSA for your college-age children? Do you think it easy/impossible?
95. High School Graduation – Memories of your own; attending those of your family and friends…is this an unnecessary ceremony?
96. Graduation Regalia – Is your closet filled with old caps and gowns? What to do with them?
Blog About Shopping
97. Articles about Shopping – Do you like any kind of shopping? What kind of shopping do your readers like/dislike?
98. Shoes – If female, do you love shoes, how many you own; if male and not interested in shoes, write about the female obsession with shoes and how you feel about it.
99. Makeup – Enemy or friend – If you love makeup, what does it do for you? If you dislike it, why.
100. Tools – If you own a home, you own tools. Do you use them or do they sit around collecting dust? Which is your favorite tool?
101. Wish List – What would you buy on Amazon if money was no object?
102. Fashion Advice – Ask your readers which dress/shirt/shoes look best.
Miscellaneous Ideas
103. Recently Read – Write a synopsis of this week's favorite blog posts from other authors.
104. Run a contest – Offer a small prize for some contest such as the best pun on a specified topic, best practical joke or best Donald Trump joke.
105. Idea: Make Lists – People love lists, no idea why, but you might attract some traffic from your lists such as ten worst television shows, worst rock ballads of all time, worst hairstyle on a television star.
106. Complain – Complain about your job, coffee, house, pet or anything else and try to make it funny.
107. Joke Contest – Create a theme and you can use this one several times. Political jokes, sports jokes, international jokes.
108. Local Traditions – Write about an odd/unique local activity or tradition. Is there an Easter Egg parade in your town? A tradition of a winning marching band?
109. Paying it Forward – Donations, charitable activities – what do you do to give back and encourage your readers to tell about their activities as well.
110. Bucket List – What do you want to accomplish before you die?
111. Garage Sales – Love 'em/ hate 'em? Any tips for getting good deals?
New Editions (aka I'm Not Renumbering)
112. Bullet Journaling – Is it a cult or is it really useful?
113. Website Ads – Do you mind them? Do you block them?
114. Patreon – Write about the people or groups that you support monthly.
115. Retro Computers – Do you get nostalgic thinking about your first PC? Or Commodore 64 if you are older?
116. The Corona Virus – Where do you stand on opening up the economy vs flattening the curve?
117. Tik Tok – Is this harmless fun for kids? Or a trojan horse?
—
I want to hear from you. Are these ideas helpful?
For those who have blogs already, what blog topics do you consistently find easy to write for?
Let me know in the comments below.
—-
Share this Post on Pinterest!