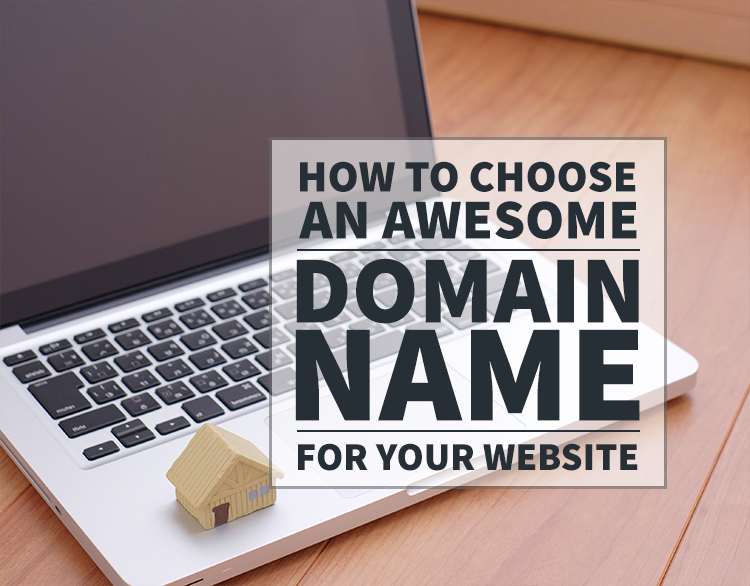 Don't underestimate the importance of a good domain. When marketing your business, the first thing your site visitors see is your domain name.
For that reason, you should give the choice of your domain name a lot of thought and consideration.
Your domain is your identity on the web; you must be sure that the URL truly fits your business and is easy to find. An effective domain imparts confidence while the wrong one causes your customers to be wary.
However, if your site is to be easy to find, you most definitely want to rank better in search engines such as Google, and your domain name could be a significant factor in the ranking algorithm of Google.
Many online tools can help you to pick your best domain name. Let's take a look at some of the best domain name generators as well as some ideas on what type of brand you should be looking for.
Websites with Free Tips on Choosing Domain Names
All three of the above websites offer tips on choosing the perfect domain for your business.
Some of these tips include the following:
Your domain name should be easy to type and short.
You should include keywords that describe your business and/or the services you offer in your domain name.
For a local business, your website URL should include your city and/or state in order to allow local customers to both find your business and remember it.
Using numbers and hyphens can be confusing for anyone who hears your website address, therefore, you should avoid their use.
If you want to be sure your users remember your domain name, make it catchy.
In order to avoid a legal mess, you should research the URL you plan to use to make sure it isn't copyrighted, used by another business or trademarked.
Dot-Com domain extensions are the most popular, and for that reason they are more likely to be remembered.
Your domain extension should be one that is appropriate for your business or organization, short and memorable. You can find a list of extensions with the uses they are best for published by Rand Fishkin, the ex-Technical SEO of Moz.
My List of the Best Domain Name Generators for Your Website
The tools below can be addicting. You might spend a few hours just clicking around on a domain name generator site trying to find that perfect name.
Don't spend too much time obsessing over your domain name. If you want to start an online business or blog that brings in money, just start.
Hanging around in the planning and learning stages for too long will cause your site to fail. Just get out there and do it!
1. Lean Domain Search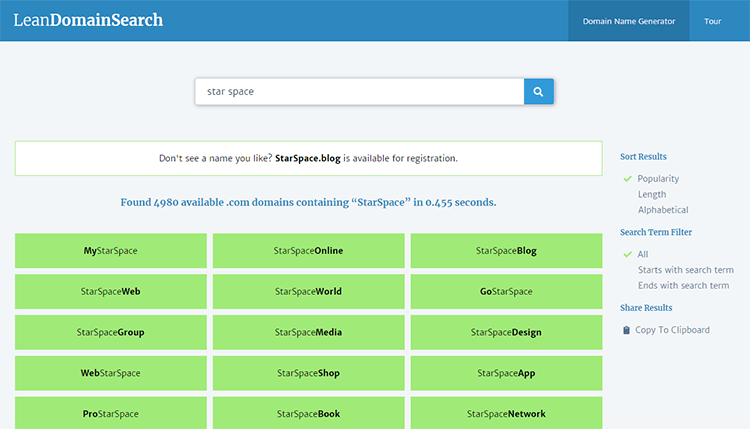 Lean Domain Search is a free domain name generator that provides a search engine for finding a .com domain name quickly. They do this by pairing your search phrase with common keywords for domain names. They will also show you which ones are available to be registered.
Although their search engine is fast, one in twenty of the results available was registered previously. When you click on a name to select it, they double check it for you to make sure the domain name is in fact available. Domain names that already taken have the label "registered."
Of note is that this generator only shows .com  domain options. No other TLDS are available with this tool.
---
2. Domainr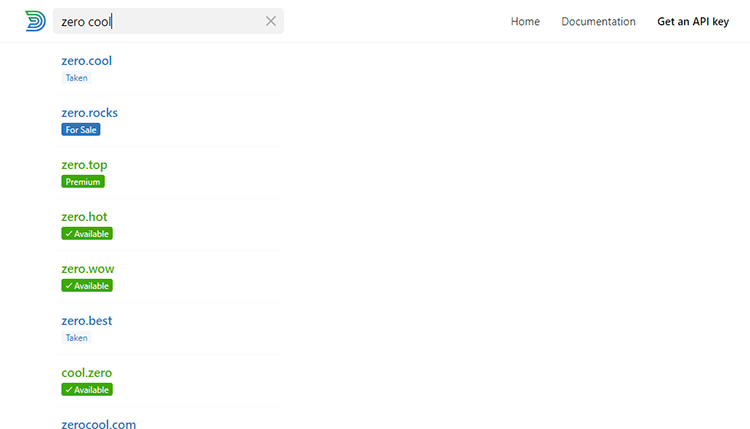 Domainr offers a free and fast domain search. There are hundreds of available sites across multiple TLDS from which you can choose. Domainr will help you to explore all of them.
The features of Domainr include:
A search of all domains including country and top-level versions.
Support for internationalized domains.
All domains' registrars.
Makes it possible for you to make an offer for parked or for sale domains.
Makes it possible for you to pre-register domains that are new.
You can use iOS-native sharing to share domains.
If the Namecheap app is installed, you can buy from it.
---
3. Impossibility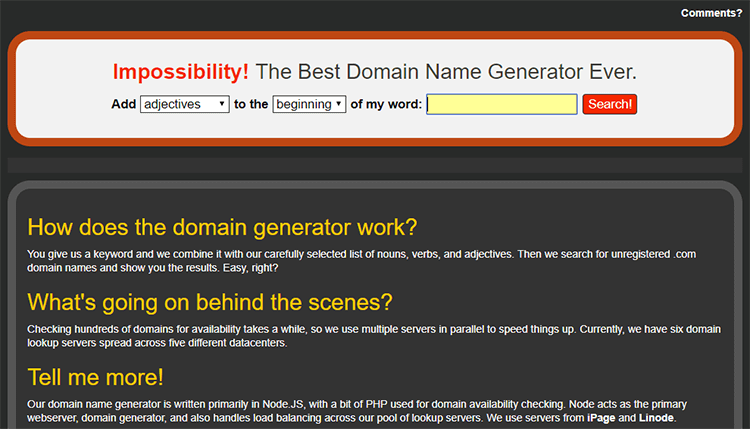 Impossibility offers a domain generator. You give them a keyword, and they combine it with words from their list of verbs, adjectives, and nouns. They then search .com domain names for the ones that are not registered and show you the available names.
To check the availability of hundreds of potential sites quickly, Impossibility uses many servers in parallel. They currently have six domain servers dedicated to look-up, spread through five data centers.
---
4. Domain Wheel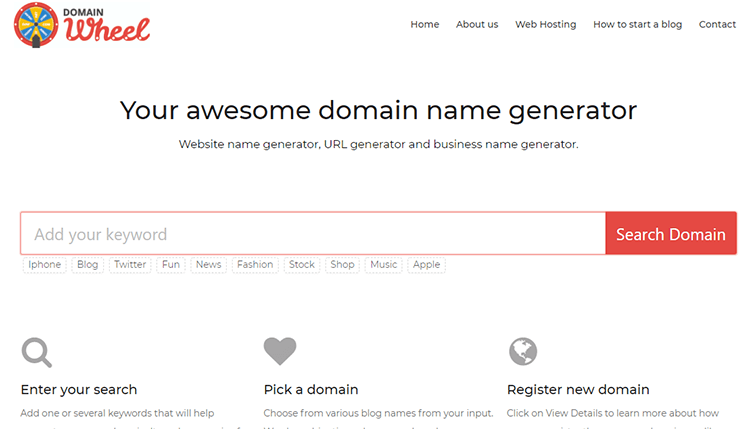 A new addition to the list is Domain Wheel. They are perfect for people who are buying domain names for the first time and for pros looking to create their next domain name.
This site can help most people to create a domain name and are especially suited for people who:
Would like the ease of buying a domain with one click.
Want a lot of suggestions at once.
Want an environment to search for a domain name that is clean, ad-free and simple.
Have a lot of keywords to search at once.
Want to expand their inventory of domain names.
Domain Wheel automatically provides you with some similar sounding names and synonyms of your seed keywords. It runs very fast and can give you a ton of results in the blink of an eye.
Unbelievably, they do this in very little time.
---
5. Wordoid
What's a Wordoid? Simply put, they are words that are made-up. Not only do they look nice and feel great, but they can also be used for your website. If you're trying to create a unique name for your domain, perhaps a Wordoid will do the trick.
Wordoid is different than any other domain name generator tool. Their method of creating a distinctive URL is to invent new words. The only rules they follow are those of phonetics and words to roll off your tongue.
They may sound like real words, but you will find none of them in a dictionary. You can use several languages such as English, French, and Spanish to create words.
The method you use involves several steps:
Choose one or more language.
Select the quality level.
Type your keyword.
Wordoid offers you a number of the best variants as well as info on their availability.
---
6. Name Stall
With Name Stall, generating a domain is easy. Their free domain name generator tool will generate thousands of keyword-rich domains for your business, blogs, and websites and check their availability as well. It also functions as a short domain name generator that will find short domain names really fast.
You begin by putting your keyword into the domain name generator tool. Then after selecting a word group that is appropriate for your domain, you hit the button labeled "Generate Names."
The generator then gives you a list of the best suitable and brandable URLs that include your keyword. It takes just one moment for the tool to check the availability of domain names.
The result is dozens of domain name suggestions for your selection.
---
7. Panabee
When searching for a domain name, Panabee has a simple way for you to search for it. You immediately see the availability of the domain, and their tool also generates alternatives in unison.
It is always a good idea to have options in case you can't find a name right off the bat.
In checking for the availability of the domain name, most other sites only check NET, COM and a few top-level domains, but Panabee allows you to check top-level domains of your specific home country as well.
This check is especially convenient for international businesses. For instance, if you are a business in China, you can direct Panabee to use CN, and all suggestions for your domain name will be checked for availability in the CN domain.
International domain names with extensions such as .co.uk, .in, and com.au are offered and checked by Panabee.
If the perfect name for you is taken, Panabee will give you some suggestions based on your original idea.
These suggestions are developed and derived from syllables, phonemes, prefixes, suffixes, abbreviations, and trends of popular domains.
---
8. DomainPuzzler
It can be frustrating if someone has already taken the name you want. That's when DomainPuzzler can help.
DomainPuzzler offers a domain generator that will help you to find a suitable name easily and quickly for free. Its generator combines all words automatically and gives you many suggestions.
DomainPuzzler offers options for you to discover domain names such as:
Magic: Combines your keywords with popular words.
Easy: Checks for availability.
Advanced: You can combine words and choose your extensions.
---
9. GoDaddy
A name generator that I use often that can help you find a good URL is GoDaddy. They offer a huge selection of other services and low prices as well.
When using GoDaddy:
You don't need to have technical skills because the tools at GoDaddy make it simple enough for most people to set up a domain.
If a website exists, you can use GoDaddy's simple and quick tools of GoDaddy to forward your site to it.
You can customize your site with their selection of up to 100 subdomains.
You can always make sure you are up and running with their real-time monitoring.
Their experts are available 24/7 to assist you by phone.
GoDaddy has everything you need to build an online presence, develop your website, and host your site.
---
10. Shopify Domain Name Generator
Shopify offers a free tool that will combine your keyword with other words to automagically generate a huge list of domain names that are available.
It's the perfect tool for you to find a domain name that is suited to both your personality and your business and instantly checks its availability as well.
Shopify is also one of the most well-known e-commerce solutions if you have an online store and that is the market you plan on entering.
---
11. Instant Domain Search
It isn't always easy to come up with a alias for your website. However, by enlisting a tool such as Instant Domain Search, you can come up with many creative and cool ideas.
All you need to do to get started is to put in a keyword that is related to your business.
---
12. Dot-o-mator
Using beginning and endings, Dot-o-mator is a unique tool that allows you to create suggestions for your domain name. It is both a domain name generator and a lookup tool for discovering potential domain names.
Dot-o-mator creates domain names in the following way:
You enter a word.
The word you entered is combined with word endings on a list based on the category you choose.
You are then shown a list of selections to choose from.
Its built-in Whois tool shows you information about domains that are already registered. Also, the Check tool can be used to verify the availability of a domain name of any .net, .com, or .org extension.
If you find one you like, you have three choices:
Save it on your favorites list.
E-mail it.
Register the domain by tapping the link.
You now can check the availability of all the generated names all at once and see which are available.
Also, by adding or removing words from the endings section, you can customize the list.
---
13. Domain Hole
At Domain Hole, you can generate domain ideas using the following tools:
Spinner: Will combine your keyword with hundreds of words to create domain name ideas.
Generator: Generates domain names that are unique, pronounceable and brand-able.
Expired Search: A database of expired domain names can be searched.
Brainstormer: This tool will provide you with the best new ideas and domains to consider.
---
14. Name Mesh
Name Mesh is a fun tool. You begin by entering one or two keywords. Then you choose your domain extension.
When you hit the generate button, it automatically finds some of the best domain names that meet your criteria. You can now check the domain registry to find out which domain names are available.
It uses synonyms as well as mixing in word endings like "-ly" or "-ful".
---
15. Fresh Drop
Instead of using a domain name generator for getting a domain for your company, blog or website you can use a search engine for domain names that have expired.
Fresh Drop is a free search engine for expired domains and domain ideas. It searches millions of expired and dropped names. No registration is required.
Also, you can also check the availability for any of the listed domain extensions of a domain name.
A significant advantage of finding an expired domain is that it will rank better in search engines such as Google and also transfer more link juice (power) than any newly registered website name.
This ranking increase could be due to the age factor or the links the previous owner built.
---
16. Bust A Name
Bust A Name is a random domain name generator that is very easy to use. You simply enter a few keywords, and the results of available domain names show in the third column.
If you don't see any results, just add more words until you find some domains.
You can also do the following:
Sort your best keywords into groups.
Sort available domains.
Choose top-level domains you prefer.
Configure how the words are combined.
Add a suffix, prefix and remove or add vowels, plurals, etc.
See premium domains that this name generator can display.
---
17. Nameboy
With the free Nameboy domain name generator, you simply enter a primary keyword, and, only if you wish to, add a secondary keyword.
You can then choose to check a box entitled "Allow Hyphens" as well as a box entitled "Rhyme."
With just a click on the "go nameboy" button, the results are instantly displayed.
---
Top Domain Options for your WordPress Site, Online Business or Personal Blog
Finding the perfect domain for your business, organization, blog or WordPress website can be a daunting challenge. I hope my list of domain name generators helps you get started on the web.
So, if you're looking for the one of the best domain name generator tools, try one or more of these sites. You will surely find the domain that will fulfill all your needs.