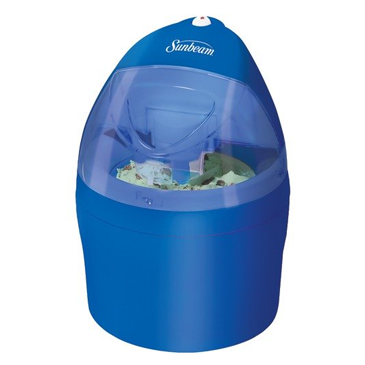 The Sunbeam GC8101-BLS is a bright blue ice cream machine which quickly creates your favorite treat without the hassle of cranking or mixing.
It uses gel technology to set your homemade ice cream faster than typical ice and rock salt and can be used to create ice cream, frozen yogurt as well as delicious sorbets.
A small machine that is fun to use
This model is an ideal homemade ice cream machine for small kitchens. Whether you live in the city and barely have counter space or your kitchen is already bursting with appliances, at 2.9 pounds the Sunbeam GC8101-BLS can fit in the smallest places for storage purposes.
This machine is a pleasant deep blue, and the freezer bowl is filled with a gel that quickly sets when placed in your freezer. Due to the gel technology, you can skip the rock salt and ice when it comes time to create your homemade ice cream.
An ingredient feeder permits you to add any extra ingredients you need to create the ideal frozen treat—nuts, chocolate chips, cherries or anything else your palate craves.
Founded in the early 1900s, Sunbeam Products is based out of the United States. This company specializes in home appliances for the kitchen as well as products to assist you in your day to day living. From dog clippers to shear your pooch to a cozy heating blanket to get you through the chilliest winter night, Sunbeam Products has an array of items ranging from whimsical to purely functional.
This company even produces premade ice cream mixtures to skip the necessary steps required to whip up a recipe for your homemade ice cream machine. Chocolate, vanilla, and mint chocolate chip are some of the flavors of the premade ice cream mixtures Sunbeam Products creates.
The Sunbeam FRSBWDBK is one of Sunbeam's whimsical products with a solid basis in functionality. Its delightful blue color draws the eye while the gel freezing bowl helps you achieve your homemade ice cream dreams faster.
This ice cream machine celebrates the positive aspects of the Sunbeam company with its functionality as well as its appearance.
Simple to operate
This model is one of the simplest machines I have tested as far ice cream machines tend to go. I consider the Sunbeam GC8101-BLS a fix it and forget it type device. I pull my bowl out from the freezer, set up the machine, drop in my ingredients and go. Forty minutes later, I return, and my ice cream is ready to go.
Since I prefer softer ice cream, I tend to serve it straight from the Sunbeam GC8101-BLS, but if you prefer tempered ice cream, just toss your freezer bowl into your deep freeze and wait for an additional twenty to thirty minutes. Voila—your ice cream is ready to serve!
My children love to experiment with this machine. From adding peanuts to crumpled candy bars, they love trying new additions to their ice cream, and the large ingredient feeder allows this to happen with ease.
This machine is also easy to clean up—which is a plus in a family kitchen! I wipe the motor down with a nonabrasive cloth and wash the removable parts.
One key to keeping your ice cream fresh is to place your freezer bowl into a plastic bag before slipping it back into the freezer. This step will prevent your bowl from experiencing freezer burn which will affect the taste of your next dessert.
Due to ease of use and the fact that this machine takes up minimal kitchen space, I would say this is an excellent machine for large families. You may have to make multiple batches to please everyone in the household, but it's a fun machine to operate, and kids love tweaking the flavors.
This machine is relatively small and easy to use. The Sunbeam GC8101-BLS only makes one quart of ice cream at a time and loses some of the homemade feelings due to its fully automatic status.
If you just want good tasting homemade ice cream—this may be the machine for you. If you are searching to remember the feeling of making ice cream out on the porch with your grandparents, you may want to invest in a different product.
Pros of the Sunbeam GC8101-BLS
Its a small machine and can fit into any kitchen space.
The gel bowl sets quickly in the freezer.
The big ingredient feeder encourages experimentation.
Cons of the Sunbeam GC8101-BLS
This machine only makes one quart of ice cream at a time.
It lacks the traditional feeling of homemade ice cream.
While it is functional, it's plastic look may be aesthetically displeasing to some.