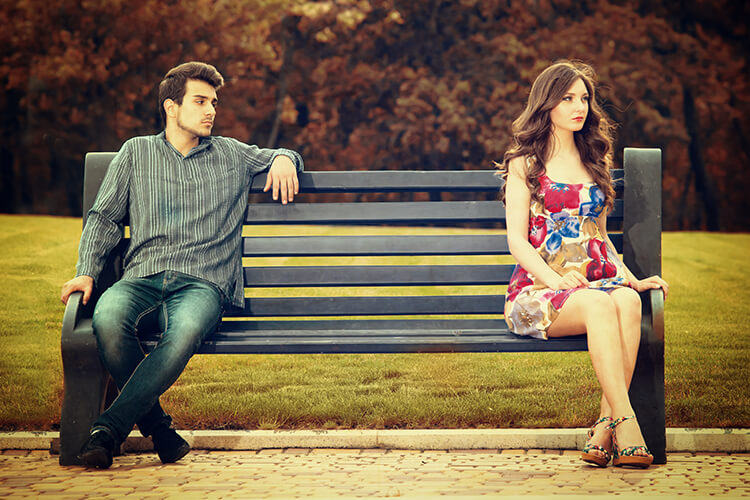 Sometimes, a seeming breakup leads to a stronger relationship with a better future. Not always of course, but sometimes.
Why is that?
Sometimes people don't know what they've got until it's gone. This can be especially true for a young couple. People with limited relationship experience may not realize how much you are doing for them until it comes to a sudden and screeching halt.
So don't panic if you've just broken up with someone. It may not really be over yet. It may just be on break while the two of you sort out your feelings.
Keep in mind that if desperation were attractive, there would be no lonely hearts. Begging someone to come back can make you seem pathetic and the opposite of attractive. It can make sure the relationship is really over for good. It can drive them away and put the final nail in the coffin of the relationship.
But ignoring a man sometimes has the opposite effect. It sometimes makes him realize how much you are worth and how much he misses you.
However, he can't figure out what he has lost if you show up every time he calls. He will only figure out what's missing if it's missing for a while. He needs time to notice what's missing.
If you ignore him for a while, it will deprive him of all the little things you have always done. He may realize he was taking things for granted and suddenly he can't find them anywhere else. You are the only person who did those things for him in that way.
But you also need to make sure you don't sell yourself short. Have some self respect. You having a strong sense of self worth is an attractive quality and it's also just a fundamentally healthy way to approach life.
You can't have a healthy relationship if you aren't healthy on your own. You need to know how to deal with yourself and your life, with or without him.
If your entire life revolves around pleasing your man and you don't have any independent interests, most men won't find that attractive. It's frankly boring.
While you are ignoring him, make sure to think about whether or not you would even want him back. You may not!
But also work on yourself.
A good relationship is one where two whole human beings share their lives. Your life shouldn't revolve around a man. Your life shouldn't come to a screeching halt if he walks out the door.
You should have hobbies and interests of your own. You should have your own social support network. You should have your own hopes, dreams and goals.
If your life falls apart the minute he leaves and you desperately want him back, what are you? Are you just a parasite?
That's what he will wonder. That's what he will think.
Women with a strong sense of self and more to their life than just being a bauble on some man's arm will attract very happening men. Men who have a lot going on don't want someone who is just a bauble on their arm.
They want someone who is a source of interesting conversation. They want someone who knows how to live well. They want someone with some strengths to bring to the table.
This is the real reason that ignoring a man sometimes has him come running back: It signals there is more to you than he thought.
Part of not selling yourself short is knowing what you want out of the relationship and refusing to settle for less. Let's say you dumped him because you thought this was headed for marriage and you learned he was not on board with that.
Don't take him back if he's not ready to commit to marrying you. Don't let him set all the terms and have all the power in the relationship.
While you are apart, decide for yourself what you want out of life and out of a relationship. Think about whether or not he's really what you want and need.
Don't assume that you just need him and that's it. That's no way to live a full and happy life.