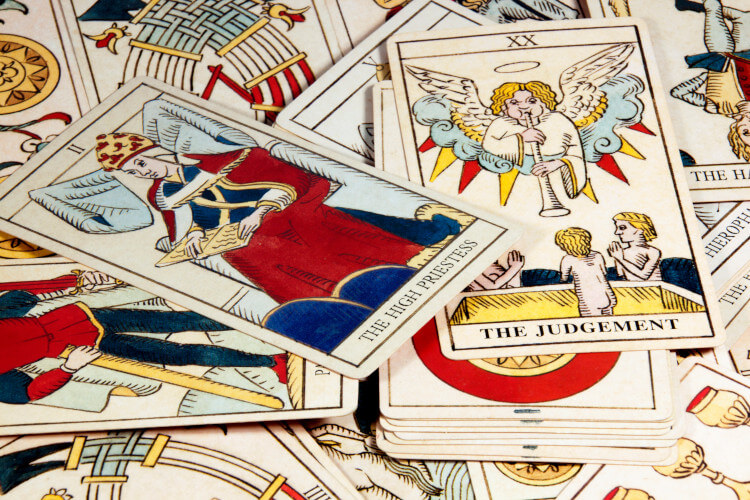 From an early age, I've been fascinated with mystic arts and all things metaphysical. So I like to read and write about the subject and learn as much as possible.
When I began working with tarot, I did readings only for myself. As I started branching out to include friends and family, I began to worry about the shuffling aspect of reading.
I didn't want to come across as awkward or inexperienced.
When I first started looking at different ways to shuffle tarot cards, I found it really hard to decide which one was my favorite.
They all seemed so cool and exciting!
The Power of Shuffling
The idea of having a different kind of ritualized activity in my readings appealed to me because my usual method is a little boring – it's just re-arranging the order of the cards.
I thought that doing something new each time would feel more spontaneous. I also thought it would be easier for me if it turned out that I needed a new reading because something unexpected happened.
Another aspect that appealed was the idea of developing my own personal style of shuffling.
There are so many different ways to shuffle tarot cards, and I thought that by getting used to them all, one method might work better for me than another.
I've found that there isn't one method that is my favorite – it's always a combination of factors.
For example, suppose the cards feel too slippery for me to shuffle comfortably or seem really flimsy and look likely to fall apart. In that case, I prefer a method that mixes the cards up well beforehand.
On the other hand, if I find it hard to tell when the deck has been sufficiently mixed, I will combine this method with another one that ensures that everything is thoroughly shuffled together before starting.
Also, cutting the deck into two halves and doing another cut usually gives me a good feel for the cards. If I don't like how they feel, I will make sure that I do this again until I can shuffle with them comfortably.
I find that when I'm in a rush, simple riffling works best.
As an added bonus, if I have to do the cards in public, this method seems least likely to give anyone cause for concern!
All that said, however long I end up spending on shuffling (and even if I don't feel like I've achieved a good enough shuffle), it's usually not too long before I feel that the energy in the cards is ready.
Then it's time to start laying them down. So what is my favorite way of shuffling?
Types of Tarot Card Shuffles
Overhand Shuffle
The most popular method of shuffling tarot cards is the 'overhand shuffle.' The overhand shuffle involves holding a single deck of cards facedown in one hand and drawing a card off the top with the other. It's a simple, quick shuffle that anyone can do – from novices to expert readers.
Riffle Shuffle
The 'riffle shuffle' involves splitting the deck of cards into two halves stacked on top of each other. The two halves are then riffled together or quickly moved in opposite directions at the same time.
It's an effective method of mixing tarot cards, but it can be challenging to keep track of cards quickly.
Weave Shuffle
The 'weave' shuffle involves splitting the deck of cards into three sections and then weaving them together. You can hold all three sections in one hand or spread them out so that you have to use both hands. It's a good way of separating cards, but many people find it difficult to control.
The weave shuffle is also relatively slow, making it impractical to use during a live reading.
Spread and Mix
Obviously, this isn't an official name, but it's pretty explanatory. Sometimes I just spread the cards out all over the table, move them around in a random pattern and then put the deck back together. This method allows me to place my hands on virtually every card and direct my energy to them.
It's not the prettiest of shuffles, but I find it works well when struggling with a particularly troubling question.
A Little Tip From Me…
Always concentrate when shuffling cards. When you focus, energy builds up. Shuffle in a quiet space with minimal distractions.
This is why many people shuffle in a meditative state or try to get away from everyday distractions by going into a quiet room. If you get frustrated with not mixing well enough, that's normal.
It takes time to learn how to read tarot cards and even longer for it to feel natural. Do not be afraid of making mistakes.
Summary
Getting used to shuffling tarot cards is an essential part of learning how to read the cards – it's important not to get too lazy and just use one method all the time.
Remember that when you're reading for other people, they might be nervous or expect a particular deck shuffle from you. If their expectations don't match your current level of expertise, you might feel flustered.
Being able to shuffle the cards in whatever way you feel comfortable with, regardless of other people's expectations, is what your clients should expect from you.