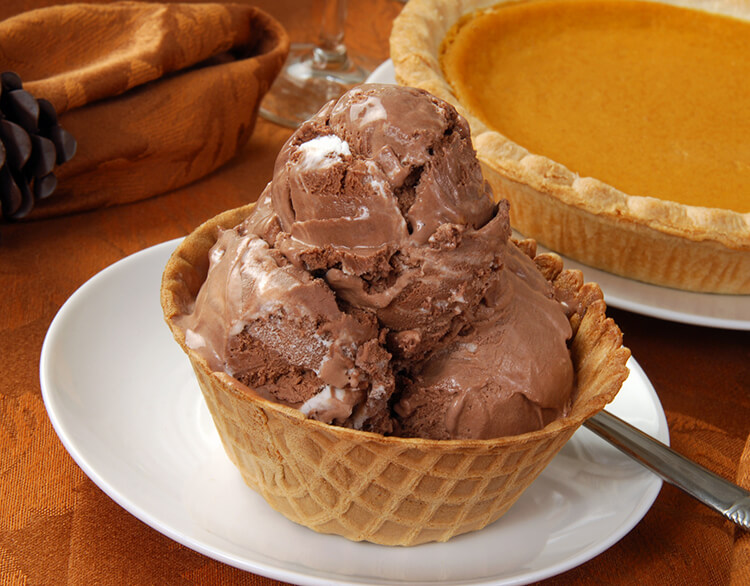 Rocky road ice cream will forever be the flavor that throws a party in the mouth. The combination of smooth chocolate, crunchy nuts, and gooey marshmallows is hard to resist.
The only thing that can honestly make rocky road ice cream any better is by making it at home.
Homemade Rocky Road Ice Cream
The recipe makes two quarts.
Ingredients:
6 egg yolks
¼ cup of Dutch process cocoa powder
¾ cup of sugar
2 cups of heavy cream
1 cup of whole milk
1 teaspoon of vanilla extract
¼ teaspoon of salt
2 ounces of roasted and chopped hazelnuts
2 ounces of roasted and chopped almonds
2 ½ ounces of chopped dark chocolate
2 ½ ounces of chopped white chocolate
1 ½ ounces of mini marshmallows
Instructions:
Preheat the oven to 350 degrees.
Before starting on the ice cream, roasting raw nuts at home will add some extra punch to the flavor. Arrange the nuts in one layer on top of an aluminum-covered baking sheet.
Bake the nuts on the middle rack of the oven for about 10 to 12 minutes, or until a darker brown and aromatic.
While baking, make sure to shake the pan occasionally to obtain an even roast.
Let the nuts cool completely before using.
Use a towel to cover the hazelnuts while warm for about one minute, the rub to remove the skins. Once they are cool, chop the nuts into bite-sized pieces.
Now for the ice cream.
Using a large saucepan, whisk the egg yolks and cocoa together until completely smooth, and you can see no lumps. Slowly whisk in the sugar.
If the mix appears to be too dry, stir in one or two tablespoons of cream. The mixture should resemble a smooth paste.
Once the paste has reached a smooth consistency and you combine all the sugar, whisk in the heavy cream and whole milk.
Place a pan over medium heat to cook the mixture. While cooking, whisk the mixture frequently until it thickens and completely covers the back of a wooden spoon.
Transfer the mixture to an airtight container. Stir in the salt and vanilla and cover the mix with the lid.
Chill in the refrigerator overnight.
The next morning, churn the ice cream according to the ice cream maker's manufacturer's instructions.
Once the ice cream is complete, transfer it into freezer-safe containers, leaving some room at the top for expansion.
Quickly stir in the roasted nuts, dark and white chocolate, and mini marshmallows until evenly mixed. Chill inside the refrigerator for at least three hours before serving.
—-
This rocky road ice cream recipe has served me well for many years. I hope it will make your family smile as much as it did mine.
Make it a party to remember by combining the ice cream with warm brownies or chocolate cake and top it off with caramel sauce.