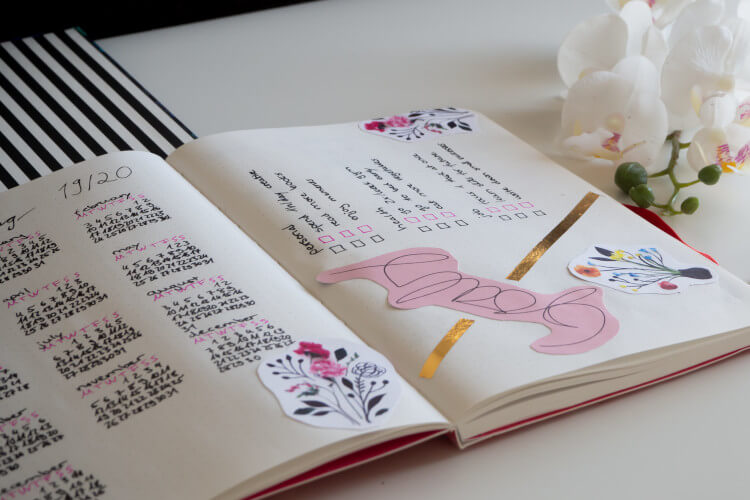 There are a million things and thoughts that cross our minds every day. But unfortunately, organizing these thoughts can be a handful without the right resources.
Thanks to burgeoning stress levels, people find bullet journaling as the best way to organize, plan and reflect. Bullet journaling can be touted as a meditational exercise costumed to boost productivity. When you get both worlds, why not start right away?
People who want to get their life in order and start bullet journaling need the right bullet journal supplies.
It's easy for beginners to get distracted by pretty, ostentatious notebooks and flowery pens. But is that what you really need? This article talks about the best bullet journal ideas for beginners that will make a difference in your routine.
What Are The Best Bullet Journal Supplies?
Accumulating the appropriate bullet journal supplies will allow you to start right away. Don't be swayed by accessories that provide little use to you.
Instead, we will talk about the most essential things you need to start as a beginner. Naturally, choosing bullet journal supplies as a beginner can be overwhelming.
You need to find the right supplies and understand why each serves use to you.
For the most part, all you need is a pen and a notebook to get bullet journaling.
A rookie mistake many beginners make is investing in fancier gadgets before choosing the essential ones. As a beginner, you need to keep it simple. After all, you don't want to feel too overwhelmed all of a sudden.
Once you have the basics and get the hang of bullet journaling, you can slowly move on to other, more advanced tools that will make your job easier.
Supplies for Starting Out
Bullet journaling for beginners can be made simpler with the right supplies. As a first-timer, the fundamental question you need to address is, what do I want bullet journaling to do? Once you have that down, you can build everything around it, like the supplies you need to achieve your purpose.
The most important advice for beginners is not to get ahead of themselves. Keep it simple, and then build your supplies as you move forward.
So, without further ado, let's shed light on some of the best bullet journal supplies to use when starting out.
Notebooks/Journals
A notebook or journal is essentially the heart of your bullet journal. It's indispensable as you need to record, jot down and plan things.
Think of this notebook or journal as a daily diary. You'll be writing in it every day, so you want it to be user-friendly. The usability of this notebook or journal should trump its aesthetic appeal.
If you have both, great, but don't compromise on the former for the latter.
There are many things to consider when choosing a notebook or journal for bullet journaling as a beginner. These include pricing, line spacing, paper color, density, and visual appeal.
There's no right or wrong choice here, but the notebook should be functional and affordable, especially for beginners. For example, the lines shouldn't be too cramped, and the paper shouldn't be too dark, serving as a distraction and counterproductive.
Bullet Journal- Beginner Friendly
This best-selling bullet journal is perfect for those who want to start bullet journaling. This product features 210 pages, which are enough to get you to start and get going!
This planner has a goal checklist to allow you to get more organized. Since you're starting out, you probably want to break it all down into more manageable tasks.
This bullet journal has a weekly spread that allows you to have a bird-eye view of the week ahead-wouldn't this planning help keep your anxiety and worry in check?
Once you get the hang of this, you can start using other features it has, like the habit tracker and brain dump.
Bullet It! Lists for Living: A Notebook for Charting Your Tasks, Hopes, and Dreams
If you're just starting out bullet journaling, this notebook will allow you to list down everything you want in your life.
Lists make everything simpler – be it tasks, goals, or dreams. This paperback has 128 pages, which gives you ample space to create a collection of lists.
In addition, this bullet notebook is full of ideas and spreads that a beginner can use. On top of that, this notebook is also visually appealing for starters to give them excitement to start this journey.
All in all, it's a complete package for anyone who wants to start bullet journaling for life.
Paper Castle Thick Lined Journal Notebook
This thick notebook features 240 lines pages, front and back. This is the perfect paperback for beginners because the thick paper provides a good grip, ensuring smooth handwriting.
The product is also durable, so it will last you a long time. You can easily carry this notebook around and ensure your bullet journaling experience wherever you may be.
The notebook also comes with an inner expandable pocket that can hold your business cards, receipts, and other important notes.
5-Pack Amazon Basics Bonded Leather Journal
Beginners can benefit from this 5-pack leather journal set for all their note-taking, listing, and journaling needs.
These journals also come in various colors, providing an overall fulfilling journaling experience to beginners. This journal also features an inner pocket for storing business cards and receipts.
They are also easy to use and very convenient, making them the ideal bullet journal set to use when starting out.
Year in Review Variety Bullet Journal
This pleasant-looking bullet journal is great for those looking for an easy-to-use journal to begin writing. It is a notebook, mood tracker and journal all rolled into one.
This bullet journal features 181 lined pages, 8 blank pages, and 8 graph pages for your daily bullet journaling needs. In addition, this notebook will provide you with multiple popular techniques and some of the best bullet journal ideas for beginners.
This way, you can use it and see what works out best for you!
Pens
Choosing a good pen for your bullet journaling needs is as important as choosing the right notebook. That pen lying around in your house probably won't cut it.
As a beginner, you don't want anything interfering with your bullet journaling. Therefore, you need a reliable pen that won't ghost, smudge, or bleed, ruining your whole paper or notebook.
The more smoothly your pen glides on the paper, the more enhanced your bullet journaling experience will be!
If you're a novice at this, you probably don't know how to choose the best bullet journal supplies for yourself. However, this guide will help you out.
First, you need to look for a pen that is easy to use and doesn't pain the finger. The pen should also provide a good grip to write smoothly without interruptions.
Finally, the pen should be reliable and not bail on you while writing every day.
Uni-ball Roller Pens
As a beginner to bullet journaling, you need a pen that elevates your writing experience. The rollerball pen ensures silky smooth writing without that horrible smudge that might ruin your paper.
These pens use premium ink that dries quickly and lasts forever. These pens are easy to use and ensure a mess-free writing experience while taking notes or journaling.
These micro-tip pens are ideal for everyday use, the whole point of bullet journaling.
Sakura Pigma Micron Pen Set
These are arguably the best pens for doodling and journaling, especially beginners. These pens are perfect for journaling because they don't smudge with highlighters.
The Sakura Pigma pens use archival ink, which means they are waterproof. As a result, they won't smudge easily and ensure you have a smooth writing experience with consistency and professionalism.
These pens don't smear or smudge, making them the obvious choice for your bullet journaling needs.
Bullet journaling for beginners requires a steady pen just like this one. They are non-toxic, fade-resistant, and ensure color consistency.
Staedtler Pigment Liner
These high-quality pens are perfect for writing for your bullet journaling needs as a beginner. The liner has an extended tip, so it can be used in tandem with rulers and templates you might want to use in your bullet journal.
These pens don't bleed when you highlight material, which is common with this exercise. Since we often forget to cap pens while journaling, these pens won't dry up if you fail to do so.
These should be a part of every beginner's bullet journal supplies. All you have to do is, open the Staedtler box and start writing!
Paper Mate InkJoy
It can be a hassle to put the cap back on while writing in your bullet journal or notebook. You don't have to do that anymore with these retractable pens ready to write in just one click!
These pens come in 10 amazing colors to make your bullet journaling more fun as a beginner. The ultra-smooth ink allows you to write smoothly and let the ideas flow.
The Paper Mate pen also provides a comfortable yet firm grip, so you won't get tired of writing every day.
Pentel Fude Touch Sign Pen
As a beginner, you perhaps don't know which bullet journal supplies work best for you. Now you have the option of testing out which pen size suits you.
You can try out from the medium, fine and extra-fine varieties. These pens are easy to use, so they are great for people starting out bullet journaling.
The pens also feature high-quality ink that won't take ages to dry and incur the risk of smudging. The ink flow is also perfectly controlled, so you can concentrate on your thoughts instead of worrying about making a mess.
Journaling Accessories
Once you get the hang of bullet journaling, journaling accessories can make your job even simpler and more fun.
While a notebook and pen are the most essential supplies you need, other accessories will make making lists and organizing your thoughts and tasks more manageable.
These supplies range from your level of expertise in bullet journaling, including rulers, highlighters, markers, and more.
Some of these journaling accessories are essential for beginners and not just to enhance their experience.
For example, a beginner will need a specific kind of ruler to divide the work without smudging the worked lines. You would also need whiteout or correctional as your bullet journal supplies, especially when you're just starting out, as you're bound to make a few mistakes here and there.
You will also need some sort of paper adhesive to add things like notes and photos to your bullet journal without the hassle of messy glue.
A lot more could make your bullet journaling experience better – let's see what these supplies are!
Metal Stencil Bookmark
This multipurpose tool is perfect for all your bullet journaling needs. It is a must-have accessory that will make bullet journaling for beginners easier.
It can be used as a ruler, stencil, and bookmark. The edges and the stencils can ensure your tasks or musings stay in line and make your work more fun! It can also double up as a bookmark so you can continue writing on the page that you left off.
This stencil bookmark is just the right size, so you can easily carry it around with you and ensure you don't miss out on bullet journaling.
Amazon Basics Crafter's Double Sided Adhesive Tape
Bullet journaling requires you to add notes and photos from time to time. Now you have a great alternative to glue that can be very messy to work with.
This double-sided adhesive tape provides an instant and permanent bond without waiting for anything to dry. Since it sticks on both sides, you don't constantly have to find the 'right' side.
The tape is smooth and easy to use for first-timers and ensures you have a mess-free and hassle-free bullet journaling experience.
BIC Brite Liner Highlighter
When maintaining a bullet journal, you need a solid highlighter to underline notes and make organization simpler. You don't need a highlighter that's washed out and won't do the job correctly.
These BIC Brite highlighters have five visible, fluorescent colors that make emphasizing notes much more effortless. The chisel tip lets you switch between underlining and broad highlighting.
They provide the exact grip as a pen, so you don't have to worry about the product slipping from your hand and making a mess.
The best part is that these highlighters still allow you to see what's written underneath without causing any smudging and bleeding.
BIC Wite-Out
When you start maintaining a bullet journal, you will likely make mistakes. The BIC Wite-out will come in handy for that. It is easy and clean to use, so you don't have to worry about making a mess.
You can even ditch the hassle of crossing out what you've written, making organization difficult and unsightly. This product writes over instantly, so now you can make mistakes without worrying about it.
The translucent tape allows you to glance at just how much tape is remaining, so you can make arrangements accordingly.
This product comes with a self-winding mechanism, which will enable you to make accurate corrections.
Essentials Planner Stickers
Just because you're a beginner doesn't mean you can't take your bullet journal to the next level. Here you'll find hundreds of exciting stickers perfect for bullet journals.
These shapes come in different sizes and colors to make your bullet journal a lot more fun, so you actually feel the need to maintain it. If you're having difficulty following your bullet journal, you can add stylish stickers for your tasks like yoga, watering plants, and more.
The high-quality illustrations of all kinds would look great in your bullet journal.
Free Bullet Journal Supplies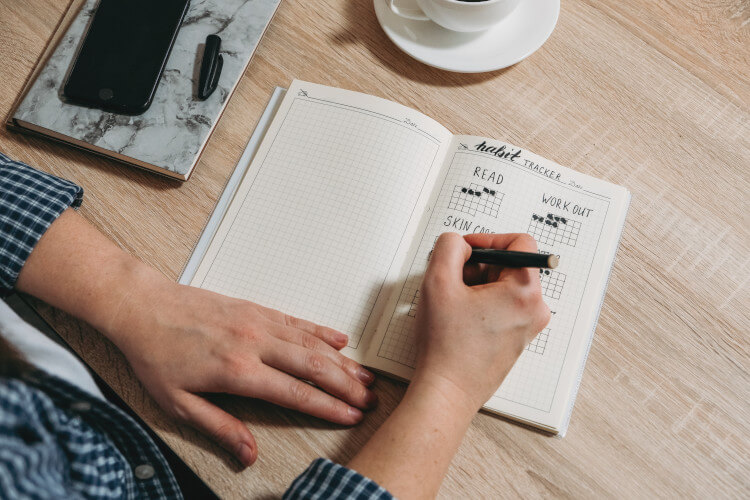 Everyone has problems when trying to place an order for bullet journal supplies to use. Moreover, the cost of buying bullet journal supplies for this life-altering exercise can be very high.
For this reason, free bullet journal supplies are a welcome addition for beginners. There are many options available, so we narrowed down some that might serve use to you.
In addition, some printables and giveaways make bullet journaling for beginners much simpler!
Free Printable 2022 Stickers
If you plan to start bullet journaling for this year, you will enjoy these adorable free printable 2022 stickers to visibly perk up your planner calendar.
There is a whole range of designs and characters to choose from, so there is something for everyone. You have the option of choosing 10 free printable 12-month calendar designs for the year 2022.
You can simply download these stickers and save time setting up your supplies for bullet journaling. These freebies will go perfectly in your bullet journal or notebook and make the exercise more fun!
Planner To-Do List
To-do lists make bullet journaling simpler for beginners. Now you can find free printables that are available for both A5 and personal-sized planners.
You can simply download and print these lists and get started without wasting more time procuring supplies. These to-do lists allow you to organize your thoughts and your daily, weekly, and monthly tasks for a well-rounded life.
These lists have inspirational words that motivate newcomers to get in the zone and get their work done.
Printable Mood Tracker
The whole idea of a bullet journal is to elevate your life and feel good about it. When you maintain a bullet journal or notebook, you also need to keep track of your moods and any negative triggers.
Now you can download this free printable mood tracker and identify any negative influences in your path. The mood tracker will make your bullet journaling exercise fun and allow you to see the progress in your mood from one day to another.
You need to sign up and start using this absolutely free accessory for your bullet journal.
Mandela Mood Tracker
Mood trackers are an essential component of bullet journaling. This is one of the top bullet journaling ideas for beginners.
Tracking your mood and improving it for bullet journaling will make the exercise fruitful and make you feel a lot better too! Now you can download the free undated Mandela Mood tracker that features a Mandela with 31 segments.
You can color this wheel and release much of that pent-up stress! This printable also features a key at the bottom, so you can use it to add your own mood that day. Print this to use it on your bullet journal.
Habit Tracker
Bullet journaling aims not just to organize your life but also to give you a chance to adopt new, improved habits and let go of old, redundant ones.
To do that, you can download this free printable habit tracker that will help set you up for success. You can see what qualifies as a habit and what doesn't and then take steps to improve your life.
The habit tracker is a great, free resource for your bullet journal.
Dot Grid Paper
A notebook or journal is the most crucial thing for bullet journaling for beginners. But finding just the right notebook can be a tad hard. If your journal has lined or blank pages, you can use this free printable dot grid paper to add to your notebook.
There are a variety of sizes available for all kinds of planners-half US letter, US letter, A5, and any personal size.
Bullet Journal Future and Someday Log
Suppose you started a bullet journal to get more organized. In that case, you'd benefit greatly from these free printable templates for a future and someday log.
You will have peace of mind knowing that you have some control over your life that's to come. You can learn how to use this bullet journal future log on the website and get your life even more organized than before.
My Favorite Books About Bullet Journaling
The concept of bullet journals is still relatively new, so it's perfectly fine if you need help regarding it, especially as a beginner.
However, if you plan on trying your hand at this exercise, you might need some tips on getting started.
The best way to learn about bullet journal ideas for beginners is through books about this habit that will literally change your life for the better.
There is so much scope to personalize bullet journals that they can be intimidating to start. But don't worry-once you get the hang of it, they are easy and addictive!
Several books help beginners on how to begin the journey of bullet journaling. Here are some books that will help you learn about bullet journaling for beginners and take it to the next level.
The Bullet Journal method: Track the past, order the present, design the future by Ryder Carrol
Ryder is famously known for developing the famed method of organizing one's life, the Bullet Journal method. So what source is better than the man himself to learn more about this technique?
In this book, Carrol imparts wisdom about the art of 'intentional living.' This book is tailor-made for all list-makers and multi-taskers who have failed to succeed.
With over 300 pages, this book will tell the reader how to master the art of bullet journaling to become the pilot of their own life.
The 5 AM Club: Own Your Morning, Elevate Your Life by Robin Sharma
This book comes from the best-selling author Robin Sharma on improving your life. He stresses on a recurring theme for people who keep a bullet journal, i.e., having some sort of a morning routine. Of course, this doesn't mean you have to wake up every day at 5 am!
However, the methods and practices contained in the book will allow readers to at least begin to perfect that morning routine.
This book will enable you to get the hang of bullet journaling to make a difference in your life.
Journal Me Organized: The Complete Guide to Practical and Creative Planning by Rebecca Spooner
If you are a beginner at the concept of bullet journaling, this is the book for you! Spooner pens down how to organize and plan your life to effectively master the art of bullet journaling.
This book also has valuable tips for choosing the perfect notebook and finding inspiration for your journal. This all-in-one read I everything you need to know to start your own bullet journal.
Conclusion
Bullet journaling is an effective habit that allows you to gain control over your life. If you plan to adopt this productive habit, you will need to gather the best bullet journal supplies for beginners, including a notebook and pen, as the bare necessities.
In addition, there are other bullet journaling accessories like adhesive tape, sticky notes, and highlighters to make the experience even better for you.
Once you have the correct bullet journaling supplies, you can embark on this journey to organize your life.