Imagine being able to make a decent side hustle uploading photographs you've taken with your phone or DSLR. Better yet, imagine being able to make a full time living selling your photos.
There are a lot of different ways to make a living as a photographer, but many of those options require opening your own business, marketing yourself, and going on shoots.
Selling your stock photos, on the other hand, can be a simple as signing up for a website and uploading photos you were taking anyway. If you want to learn how to make money with stock photography, there a quite a few things you will need to consider. Equipment needed, photo quality and where to sell your photos are a few of the concerns addressed in this article.
Let's start by defining stock photography.
What is stock photography?
Stock photography is a general photograph used for marketing, websites, brochures or other media. It is an inventory of photographs that companies and organizations can purchase on an as-needed basis.
What separates stock photography from traditional is that the photographer receives no specific assignment, parameters, or requests from the buyer. Instead, the photographer shoots a photograph and gives it out to be licensed should it meet the needs of a person looking for a picture.
Imagine that someone needs a photograph for an advertisement for office products. You've uploaded a photograph of a pen and paper to a website. Since your photograph contains features suitable for a website that sells office products, they buy the license to the picture to use on their website.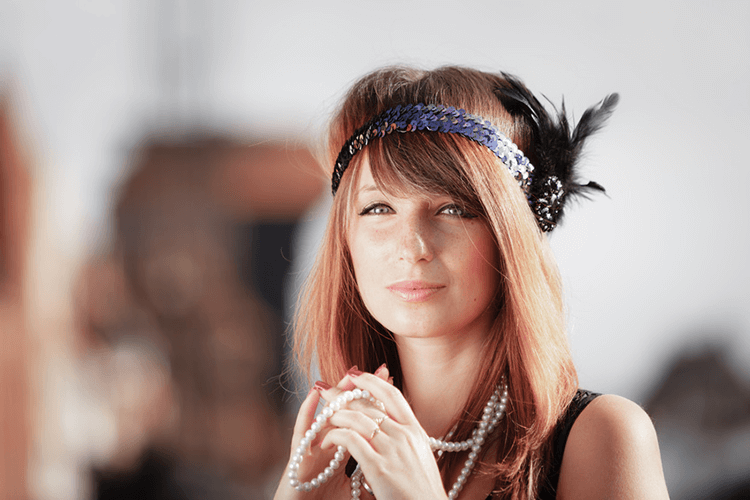 This is an example of a stock photograph. If you needed a photo of someone wearing the fashion of the 1920's this might interest you.
Listing your pictures on a stock photo site doesn't guarantee that anyone will purchase your photograph, but it does free you up to create many different types of photos for available use. There's no assignment, and you don't have to worry that your client won't like your work. Instead, someone searches for a photograph like the one you've uploaded and purchases the license.
Stock photography is sometimes criticized as cliche and pedestrian, but in reality, the stock photo business brings in almost $2 billion in revenue each year. Although stock photos can be generic at times, it's an excellent way for smaller companies to purchase quality photography without having the insane budget of a custom photo shoot.
This low-priced availability means that the demand for quality stock photos won't go away anytime soon. Now that the internet has made sharing super easy, it's effortless to upload images to a stock website and begin to make some money.
You will need a way to stand out from other stock photographers. Standing out in the world of stock photos may seem like an oxymoron, but a bit later we'll discuss some ways that you can give your photos a better chance of being noticed and licensed.
What equipment do I need?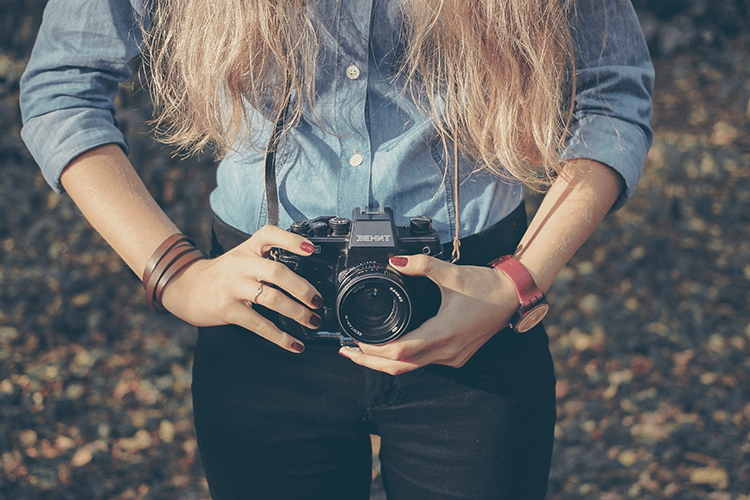 Use a digital camera instead of an older film camera.
Excellent photography is a two-step process. You need to consider the equipment required to take the photo and the software you'll use to process it. Your photography is only as good as these two things, and you can't skimp on one and make it up with the other.
Smartphone as a camera?
Smartphones have revolutionized photography, and for a beginning photographer, the smartphone is probably the first good camera to own. Camera phones were terrible for a long time, but the latest iPhone and Samsung cameras are better than some of the DSLRs of 5 years ago.
The upside of using a smartphone camera is that it's easy to use and you've probably always got it on you. Getting used to taking photos and not missing an unexpected shot is more straightforward if your camera is in your back pocket.
The downside is that you lose some of your manual controls. If you want to branch out into more specialized photography such as action or macro, you might want more control over your manual settings.
A starter DLSR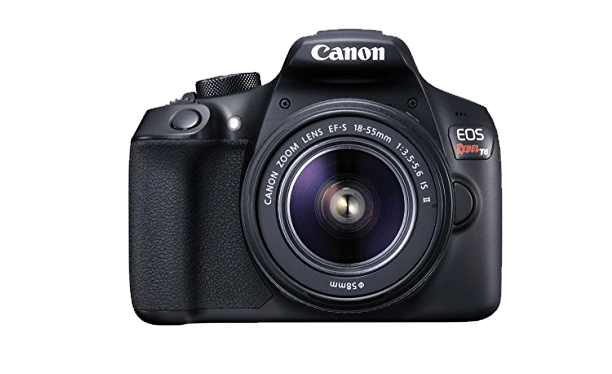 The Canon Rebel T6 is a good entry level camera. It is a DLSR with 18 MP sensor.
You can probably find a good starter digital SLR camera in the $400-500 range. I would look for 12 MP (megapixels) and up. And try to stick with a large brand like Nikon or Canon to be sure you can find accessories and an active resale market when you upgrade.
Lenses
For specialized photography, some of it will require extra equipment to take correctly. If you want to branch into the world of macro photography, you'll need a magnifying lens of some kind since most phone or DSLR cameras aren't able to focus as close as you'll need.
Action photography will require either a telephoto lens to capture the action from far away or blazing fast shutter speed to capture quick movements.
Park Photography has a good guide to get you acquainted with the various lenses available for your camera and their uses.
Software
The second half of good photography is the editing software. Get to know a good set of photo editing tools like Adobe Photoshop or Lightroom. This knowledge will allow you to tweak color and saturation, add slight vignettes or blurs to highlight certain parts of the image, correct tones and adjust exposure. Few photographers just take naturally perfect photos.
You can spend a lot of money on photo editing software, but many of them are available for free trial periods so you can play around and see which one feels the best to you.
Other Equipment
Since you are just starting out I wouldn't go overboard here but some things that I have for my fledgling photography side job are:
Tripod – Stable images when shooting close ups. Also makes it easy to keep the camera situated when you want to take multiples from the same position.
Camera bag – Get something big enough for camera, an extra lens and batteries.
Lighting kit – Natural sunlight is fine for outdoors but for product shots or indoor scenes the lighting helps tremendously.
Extra memory cards – You don't want to find yourself out of space when you are on a shoot and away from your computer.
What kinds of licenses are there?
Stock photography operates with two basic kinds of licenses.
The first is Rights Managed photography. The rights managed license is the most lucrative because many different factors determine the price per photo. Usage, print run, duration of a campaign are a few considerations as well as an exclusivity option.
Buyers often pay a fee based on the usage of the image, and the license expires after a certain amount of time. Industry type and geographic locations are other restrictions imposed on the license.
It does restrict the photo's potential if a buyer is looking for something more exclusive, but using the image may prove difficult for many buyers looking for something to plug into a poster, for example.
This type of stock photo is usually better quality, and a business willing to pay this is looking for perfection. Make sure that your photography is exceptionally creative and professional to aim for this type of license.
A cheaper but more accessible license is the royalty-free license. This license is a one-time fee. This type of license doesn't put a limit on how many times the image can be used.
Buyers pay a simple flat fee for usage, usually in perpetuity for whatever campaign they need the image. Although it might restrict how many different places the buyer can place the picture, it's a more straightforward type of license for most buyers looking for stock photos.
The Stock Photo Guides has a good primer on stock image licensing.
What kinds of photos sell?
Consider Quality
The most significant consideration you must make is if your photos look professional. Your images must still look like a professional has shot and edited them, even though someone didn't explicitly hire you for a campaign.
Poor quality photos will have difficulty attracting enough buyers to see any profit or any buyers at all for that matter. A company might not have the budget to hire a photographer for an exclusive shoot, but the internet has made it easy to find high-quality stock photos. Yours need to be professional.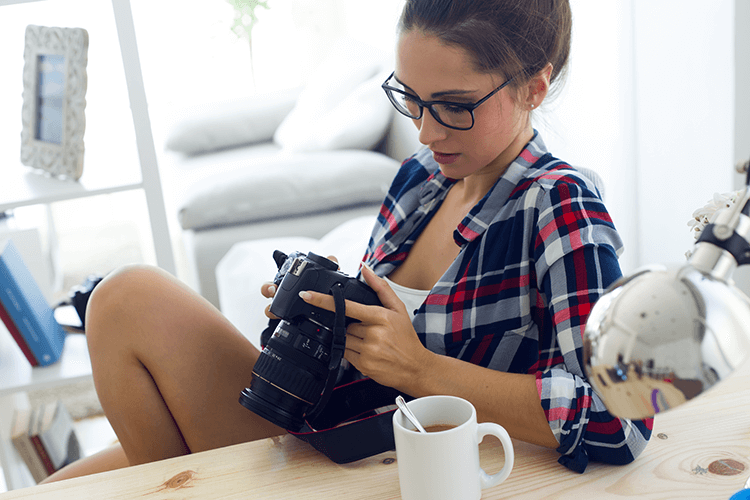 This staged scene of a photographer and her camera is well lit and professional. The coffee cup and casual dress imply a beginner learning her camera. Perfect for an article such as this.
Professional quality photos have a very high resolution so the buyer can resize as needed without sacrificing quality. They need to be well composed, taking into consideration things like the rule of thirds and other composition guidelines.
To sell a photo of a person, you must get that person's approval. This permission will help the buyer not run into problems later.
The quality of the photo will depend on the type of investment you make in your equipment. Until you have the set-up to do specialized photography, consider getting good at a kind of photography that fits the parameters of your gear.
Consider Subject Matter
Eventually, you'll have a wide range of images that cover different areas. Until then, you need to keep a few things in mind for the subject matter.
First of all, there should be no brands or logos in the shot. This rule might seem easy enough, but it can be challenging to get a shot of a city without a trademark or logo. Also, clothing, cars, really any identifiable product is going to cause brand conflict in a stock photo and is a frequent reason to reject a picture.
This restriction also goes for recognizable landmarks. Some buildings and sites have their own photographic records and prohibit unauthorized licensing. That includes your stock photo.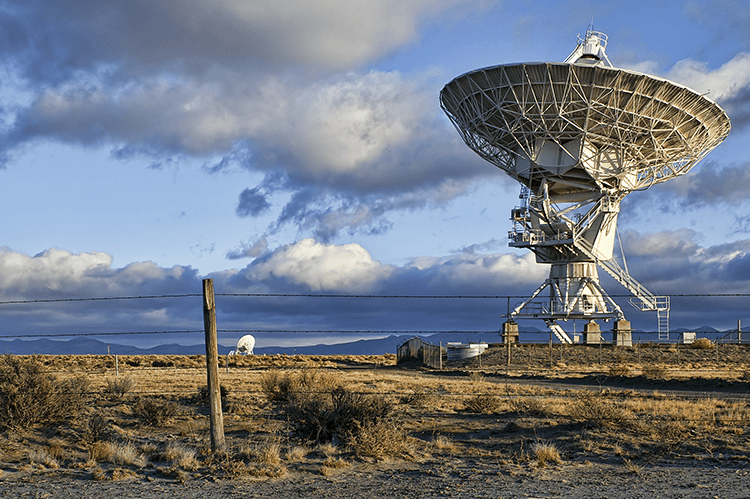 A radio telescope is an interesting and uncommon photo subject. If you look hard enough you can find something different and intriguing nearby.
It's helpful to think about images around a feeling or a theme. Adventure as a theme could hit a lot of different types of campaigns. One might be for a specific travel group, but another could be from a concert that wants to evoke the feeling of crossing boundaries. Your stock photo could work for either.
Love is another universal stock photo image concept. By thinking of this feeling, you open yourself up to different types of campaigns without getting too specific and limiting your audience.
If you photograph people, and you should because these are some of the best selling stock images, you'll need an official release form. Even if you don't have the form on you, make sure to get someone's contact information so you can send them the release later. Considering having some forms on you, however, as this is the easiest way to get a signature.
Consider unique images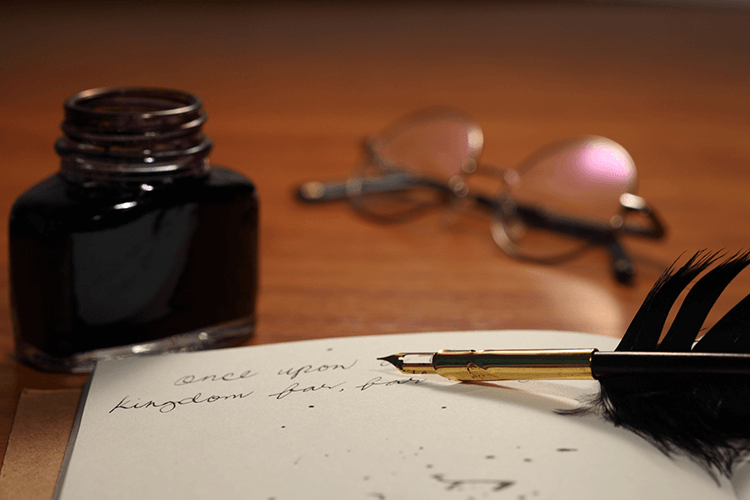 This picture of an antique quill pen and paper is an example of a non-standard setting. Images like these are unique but the market is limited.
As you go about your day, as you travel, as you do different things, get used to seeing things from different angles. Being unique is a great way to get your photos noticed.
If the subject matter is a cup of coffee, there are one million coffee photos out there. How many of them have the cup reflected in the purple and red neon of a sign? If this is a way to get an average picture to stand out, don't miss the opportunity.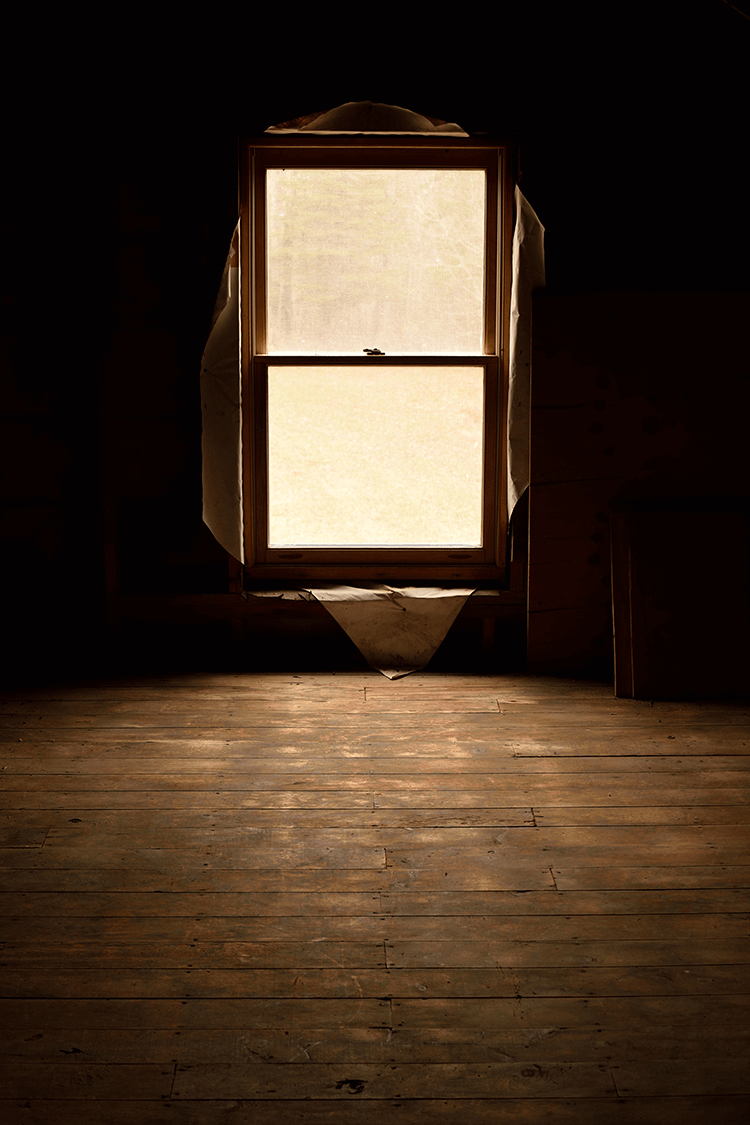 The lighting in this abandoned attic give the image a feeling of loneliness or despair. This stock photo is very different than the smiling businessman giving a handshake we have all seen!
If you are in a tourist area that millions of people visit, then your photo is going to have a lot of competition. What's a detail that everyone might have missed? A picture of that will have far less competition.
Try shooting from lots of different angles and perspectives to give your subject matter a fresh look. Not everything has to be centered. Not everything has to be from the same view. An unusual take on an entirely typical subject is an excellent way to get an edge in the stock photo market.
Alternately, when you travel, take some time to get off the beaten path. A photo that isn't available a lot of other places means money in the bank for you.
Also, don't be afraid to shoot ultra niche photographs. Eventually, precisely the right person might come looking, and you won't have any competition at all.
How much money can I make selling stock images?
Outliers are making vast amounts of money in the stock photo business, and some courses and internet gurus want you to believe that you can to with little to no effort.
This idea plainly isn't accurate although it is possible to build up a passive income with your photos. The truth is that making money depends on a few factors and none of them are quick.
Some stock photo earning reports
Here are some real-life examples of people earning money with their camera.
Hunter Bliss photography shares his earnings via video. Here is his latest from December 2017.
When you sign up with a stock photo site, many of them will offer higher commissions if you agree to exclusivity. Carefully consider this option as it limits your exposure, but potentially increases your return.
Next, consider how much commission you'll make as a member on each site. Some sites offer a tier program based on how many times an image is sold. Others base rates on how many different photos you upload and sell. Still others are based on the amount of time you've spent on the site and your success rate.
Now that you've considered these options, it's best not to think of stock photography as purely a passive income. If people are uploading hundreds of stock choices per day and if your content isn't fresh, your sales will fall.
The trick is to continue uploading better quality and more creative photos to refresh your portfolio.
Someone who regularly posts high quality and exciting images can expect a few hundred dollars per year with 50 to 100 pictures on a few different sites. Outliers can assume a few hundred to a few thousand of dollars a month.
All in all, a decent side cash stream from something you were going to do anyway.
Where can I sell my photos?
There are two basic options for getting your photos noticed.
Custom Website
If you create a website, you won't have to worry about editors rejecting your images. You won't have any direct site competition since your photos are the only ones.
Your standalone site will require a lot more marketing since people have to find it to buy. As your photographs begin to sell, this might be something worth exploring as a supplement to other sites.
It's also a handy way to increase your rates for specific exclusive images if you find yourself in a niche market. Getting good at a particular type of photograph lends itself to a stand-alone website because businesses searching for that one kind of image will look to you as an authority.
You'll have to factor in the cost of marketing, maintaining the web page, and hiring designers if you need to. You'll also have to be in charge of legal documents for contracts and licensing, which could be an extra cost as well.
If your website gains recognition, those extra costs could be well worth the return of having full control over your images and profits. Consider if you are willing to make the extra effort to make it work.
You could also try alternative sites such as Visual Society, which allows you to create a photography website and has three pricing tiers to help photographers sell photos. You retain 100% of the profits but rent a space through them.
Stock Microsites
A stock microsite is a place where you and other photographers upload photographs. Many of the stock sites have rigid quality standards in place, and not all of your pictures will be accepted.
You'll also have to share profits from the sale of stock photos because the microsite will take a cut of every sale. As mentioned above, the earnings you make depends on the different compensation tiers of the site.
Sharing your profits may be a difficult pill to swallow but consider this. How much time will you have to market your website? Are you able to write contracts and license agreements? Do you want to?
If you aren't able to put time and consideration into these aspects of stock photography, then maybe a microsite might be a better option. If the other issues of selling a photo aren't something that you enjoy, this might be a barrier to you getting your images out there. That won't make you money.
There are some popular microsites out there. The upside is that everyone knows about them and have many buyers. The downside is that there's a lot of competition on those sites.
Some good places to get started if you're just getting into the game are Shutterstock, 500px, and iStockphoto. Fotolia, which recently merged with Adobe, and Deposit Photos are a couple of other options.
You can also explore smaller sites and niche stock photography sites. Once you figure out your style and what type of photograph sells for you, use this information to examine smaller places where the competition isn't as fierce, but the customers are more targeted.
How do I get photos to sell?
Selling your stock photos is heavily based on the image quality and content, but this isn't the only factor. Other factors make your image easier to find and more palatable to purchase.
Tagging
Don't just throw up one or two obvious and uncreative tags. People don't necessarily search "coffee mug" or "trees." If you don't have useful and descriptive tags, the other thousands of photos will bury your images.
Consider tagging your pictures with feelings, impressions, and implicit themes as well as more explicit descriptions of the image. Someone may not search specifically for a coffee cup when looking for something that illustrates friendship, but if your image evokes that feeling, they might choose it to represent their project.
Take your tagging into careful consideration. Tag the predominant features of the photograph to make that aspect searchable. Then, carefully consider less specific elements of the picture such as possible themes and feelings. Other thoughts might be alternative interpretations of the mood or scene. Each tag opens your photo up for consideration from multiple angles and sources.
Don't just tag photos randomly to hit broad searches either. Tagging your beach photo as business isn't going to impress the poor searcher who finds it with the wrong descriptor. Instead, make your nuanced tags actually useful to attract someone looking for your type of photo.
Pricing
On your website, carefully consider how you price the photograph. You might think about trying a pricing strategy out and if it doesn't work after a few months try a new pricing plan. You can find a sweet spot for your particular target customer.
If you can't be the best, be unexpected.
It's nearly impossible to be the best photographer in all categories of photography. Instead of trying to chase that unattainable goal, try to think of photography as a practice in the unexpected.
Focus on being the best in one very particular type of photo, and then in everything else, train yourself to approach the subject matter in unexpected ways.
For example, many photographers won't take photos of people, and the ones that do restrict their subjects only to beautiful young women. Instead of that, you might consider photographing people who don't conform to traditional beauty standards or offer an exciting and unexpected look.
Bottom line, interesting is better and more attainable than being the best. Your photographs will offer a different look than what most people think of when they imagine stock photos, and you'll have a better chance of making a sale.
Fill a gap
You might also spend the time looking for gaps in the subject material on any particular microsite. You'll have an edge because your photo won't be one of a million pictures that look the same.
If the site has very few pictures of older men, this might be a missing piece of their gallery. Likewise, if you search for 'palm tree' and receive one million hits, maybe don't submit your palm tree photo just yet.
Frequently Asked Questions
How do I get started?
Most sites have an option to sign up and begin submitting photos. Be sure that your read submission and quality guidelines so you can precisely offer what they want. Also, be sure to read their compensation agreement and any fine print about how you can request your funds. They may have a minimum threshold before you can claim your money.
Can I upload people?
Most sites require that you have a consent agreement to upload with images of people. To ensure your photos aren't rejected, be sure to have these forms ready.
What do I do if my photos aren't accepted?
Read the guidelines first before resubmitting. Don't be discouraged by rejection. Your photos may not fill a gap in their gallery. You should also check against the feel of the site to make sure that your style is a good match.
It's also possible they aren't looking for the type of lighting or composition in your photos. Although compelling images are encouraged, ones that are purposefully obtuse or vague might not sell well, and the site has a vested interest in choosing pictures likely to sell.
I've been accepted. What should I expect?
It's possible that it will take a long time for you to start seeing any income from your photos. Make sure that you keep an eye on the latest trends so that you can upload better material. Continue to look for gaps to fill in the site's gallery.
Further Resources
Tutorials
Skillshare, Udemy, and other subscription sites offer some great beginning photography tips. Particularly good are those dealing with marketing photos and other types of marketing tips.
Another excellent place for quick tutorials is YouTube. Search for your specific photography equipment, and you should be able to find plenty of tutorials.
The Dreamframer Photography channel on YouTube has a ton of videos geared towards the beginning stock photographer.
Another great YouTube channel is run by Mike Brown who mainly shares tips for becoming a better photographer. Here is one interview he did with a stock photographer and how to start.
For your editing software, you can also use YouTube. The various software companies also offer tutorials and tips.
Blogs
Unsplash, which is actually a site for free stock photos, has a blog in which they talk about the inspiration and behind the scenes of the image. This info can be a valuable way to rethink the way you take photos and for your inspiration.
Jack Hollingsworth is a 30 year veteran of photography and has been in commercial photography. He also has tips and tricks on his website that can help you master the craft.
Forums
Shutterstock offers a forum space for photographers to ask questions and share experiences. In fact, many of the microsites offer a forum for accepted photographers to gather and talk.
Photographytalk.com and photo.net both offer forum space as well for photography questions. Search threads related explicitly to stock photography.
Bottom Line
Getting started in stock photography isn't prohibitively expensive for beginners. Make sure your photos are up to par and give it a go.
Your style will evolve as you submit more, and if nothing else, the entire thing will be a chance for you to hone your craft and earn a few bucks on the side. And who knows? It might develop into an excellent business for you in time.
Have you submitted stock photos to one of the microstock sites? Let us know your experiences in the comments below.