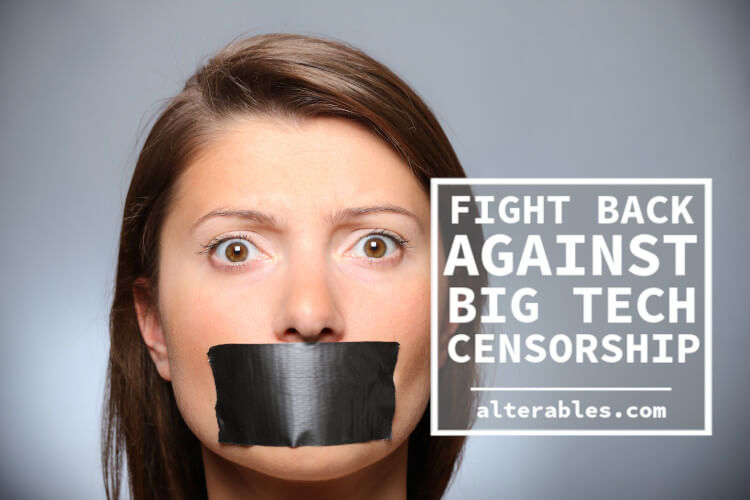 You have probably heard about Big Tech also known as the Big Five. These companies, namely Amazon, Apple, Google, Facebook, and Microsoft dominate the technology industry in most parts of the world, especially the U.S.A.
Although Big Tech has had many accomplishments and many people have benefited from some of the platforms like Google and Facebook, they are big on censorship.
Not generally considered part of the Big Five, Twitter also has to be considered in this discussion. Several prominent individuals, including President Trump, have been several restricted or outright banned from the platform.
Censorship limits people's freedom of expression on different things that the Big Tech companies may deem unacceptable, obscene, or a threat to security.
Some of the topics mostly subjected to censorship include:
Politics
Religion
Sources of Education
State Secrets
Art
Films
Social Media
The censorship policies and regulations implemented by Big Tech are harmful to people's freedom of expression and thought because they restrict specific spoken words, music, symbolic messages, books, television programs, movies, internet sites, and freedom of association as well.
A major site called Parler fell victim to Big Tech when Apple and Google removed the site's app from their app stores (Archive.today capture). Amazon also kicked Parler off of its Amazon Web Services servers (Archive.today capture). All this happened because Parler did not have any moderation of content that would prevent people from expressing their political views.
To cover up this move, another free social app called Parlor was promoted and now has over 40,000 downloads on Apple Store and Google Play Store. To be clear, this is not the original Parler app. The difference is the "e" and "o."
This begs the question, who really holds the power over online speech?
The original Parler app had hundreds of thousands of Trump's supporters who saw the platform as the only refuge since other social media platforms like Facebook and Twitter had too much censorship. This meant that they could not express freely their dissatisfaction with what was happening politically.
Parler app offered a free platform where uncensored discussions about politics took place. Unfortunately, some users came up with a few conspiracy theories about Trump and the elections. This in turn led to some aggressive demonstrations. This led to the ban of Parler because it did not have policies in place to censor posts about crime and violence.
Big Tech may have made this move because Parler was increasingly gaining followers and contained political information that the media hid from the public. To prevent this spread of free speech and free information, Big Tech moved to remove the competition from the picture.
Alternatives to Mainstream Social Media Platforms
If you are wondering whether you can find platforms that truly have real freedom of speech, where you can express yourself without fear of reprisal, the answer is yes.
Here is a list of some of the best social media platforms with no censorship on critical information:
Gab
Link: https://gab.com/
Founded in 2016, Gab is another platform that has no censorship over the content posted there. If you are looking for a site to exercise your freedom of speech on politics, religion, music or any other topic, then Gab is the site for you.
In fact, its lack of censorship has resulted in it being banned by Big Tech on the Google Play Store and Apple App Store. The interface of Gab is pretty similar to Twitter so it should not be too hard to navigate. The site has over one million registered users.
Bitchute
Link: https://www.bitchute.com/
This platform is a great alternative over YouTube. Since Youtube now restricts the visibility and monetization of channels that are vocal on political issues, Bitchute is a great option, especially if you love expressing your political views.
You can enjoy unrestricted free speech on Bitchute and it also has an ad free feature. The site has a lot of political content from across the spectrum thus allowing you to focus on the political facts and avoid the rest of the distractions. Bitchute has an average of over 10 million monthly visits.
DTube
Link: https://d.tube/
DTube is considered to be the edgier cousin of YouTube, although it is not as popular as the latter. The site is ad-free, which means that you will enjoy watching videos without those pesky ads interrupting you after every 30 minutes or less.
DTube is a decentralized website for video sharing, meaning that once you post your content no one can tamper with it in any way. When you upload your videos, you do not have to worry about it getting blocked, deleted, or censored. Enjoy free speech on your favorite topics on the site.
DTube is definitely worth a try and it is proof that having a decentralized internet is possible. The site has about 417,000 average monthly visitors.
LBRY
Links: https://lbry.com/ and https://lbry.tech/ (Technical documents about the LBRY platform)
Another site that is free from ads is LBRY. The great thing about this platform is that no one else apart from the publisher can remove the videos posted there as they are posted to a blockchain.
Do you have an topic on politics that you are just dying to talk about? If so, then LBRY is the perfect site for you.
Here is another great fact about the site. You can price the videos or pictures you upload and get all 100 percent of the revenue. How sweet is that?
Do you already have a Youtube channel? No problem, because you can easily sync all your content to show up in your LBRY account. You can also share eBooks and music on the site too.
If you don't want to run the LBRY wallet / app and just want to watch videos, you can use the website Odysee that is pulling data from LBRY. As of December 2020, the site was reaching over 8 million visitors.
PeerTube
Link: https://peer.tube/videos/overview
Are your videos on bold opinions about politics constantly getting removed, blocked, or censored from YouTube? PeerTube will help you overcome all these struggles. The site is fairly new and fresh in the market, and like most of its predecessors, it does not contain any ads. This means that you can enjoy high-quality satisfying videos on PeerTube as well as freedom of speech.
PeerTube uses peer-to-peer video broadcasting and is open source. The open source feature allows any user of the site to contribute to the code. The average number of visitors the site gets per month is about 99,000.
LiveLeak
Link: https://www.liveleak.com/c/news
If you are looking for a site that contains real footage of war, politics, or any other important events that the media tends to censor, then LiveLeak is where you should go. I
f you have any political footage or information that is banned by the media or that the media will not air, then you can upload the videos easily on the site. LiveLeak is in fact the site that leaked the footage of Sadam Hussein's execution in 2007. As such, you can be sure that you will get raw footage on many political events that have been covered up by the media.
This platform was founded in 2007 and its owner remains unknown today. If you are tired of real news getting lost in the media or the censorship that exists in the major media platforms, then log into LiveLeak and get the facts.
Summary
It is time to fight back against censorship of important information by Big Tech!  As discussed above, there are so many other social media platforms than Facebook, Twitter, YouTube, and Google.
Join censor-free and ad-free websites like LiveLeak, PeerTube, DTube, LBRY, Gab, and Bitchute to get access to mind-blowing information and opinions that have been restricted on the mainstream platforms. There is so much happening politically and you have every right to know about it.
It's up to you to decide what is fake news and mature adults know that discourse doesn't mean violence. So hop on the platforms above and start getting real news as it unfolds.