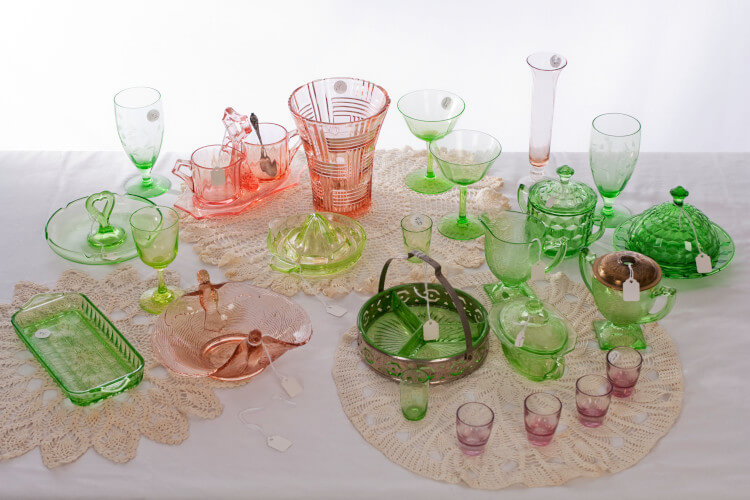 Ask most people what depression glass is, and they usually respond that it's that stuff that was given away in oatmeal boxes, or that cheap glassware that they remember from Grandma's house.
Actually, depression glass played a big part of the history of glassware in the United States, and is highly collectible today.
Depression Glass History
In the very early 1900's, producing glass objects was a labor-intensive operation. Glass was poured, molded, cut and polished by hand.
It was an art form that was passed down through generations, and the compounds used to color glass were carefully guarded secrets. Glassware was expensive and only the wealthy could afford to set their dining tables or decorate their homes with it.
The introduction of automated machinery changed all that. Pressed glassware could be mass-produced and distributed nationally at a price that the common man could afford.
The first depression glass appeared on the market in the late 1920's and was a huge hit.
Twenty manufacturers produced depression glass in over 100 different patterns.
The major manufacturers were Hocking Glass (later Anchor Hocking), Hazel Atlas, Jeannette Glass, Indiana Glass, U. S. Glass, Macbeth-Evans, and Federal Glass.
This mass-produced glass was of poor quality with little hand finishing. Flaws were the norm rather than the exception, but minor flaws have little effect on the collectible value today.
Depression Glass Patterns
In the first decade of the century, carnival glass (which has a rainbow sheen) had been immensely popular. As the demand for carnival glass waned, manufacturers turned to producing translucent glass.
Depression glass patterns had names that brought to mind a more glamorous and affluent lifestyle. Cameo, Mayfair, American Sweetheart, Royal Lace and Princess are some of the most collected patterns today.
There was a color or pattern that would appeal to any taste. Most depression glass had mold etchings that were in geometric shapes, or fanciful patterns such as birds, flowers, lattices, and baskets.
Colors of Glassware
The first depression glass produced was translucent, and later opaque colors were created. The first colors were pink, green, cobalt blue and amber, and as depression glass grew in popularity other colors were produced, including yellow, jadite (opaque light green), delphite (opaque light blue), black, white, and cobalt red.
Alexandrite, a lavender hue that changes colors in different light, had a limited run.
Tangerine, a bright orange color, was a slow seller and was soon discontinued.
Many homes of the era were decorated in amber or yellow, which may account for the great amount of amber and yellow depression glass that exists today.
Collecting Pieces of Depression Glass Today
As the Great Depression took hold, people didn't have money for extras. They needed to spend their nickel on a loaf of bread, not on glassware. Depression glass was often given as a free premium to entice customers.
It still could be had for a price at the local dime-store or grocery, but why buy it when you might get a piece free in a bag of flour or box of cereal? Gas stations might give a whole lemonade set with an oil change!
As housewives tired of the available colors, crystal depression glass became stylish.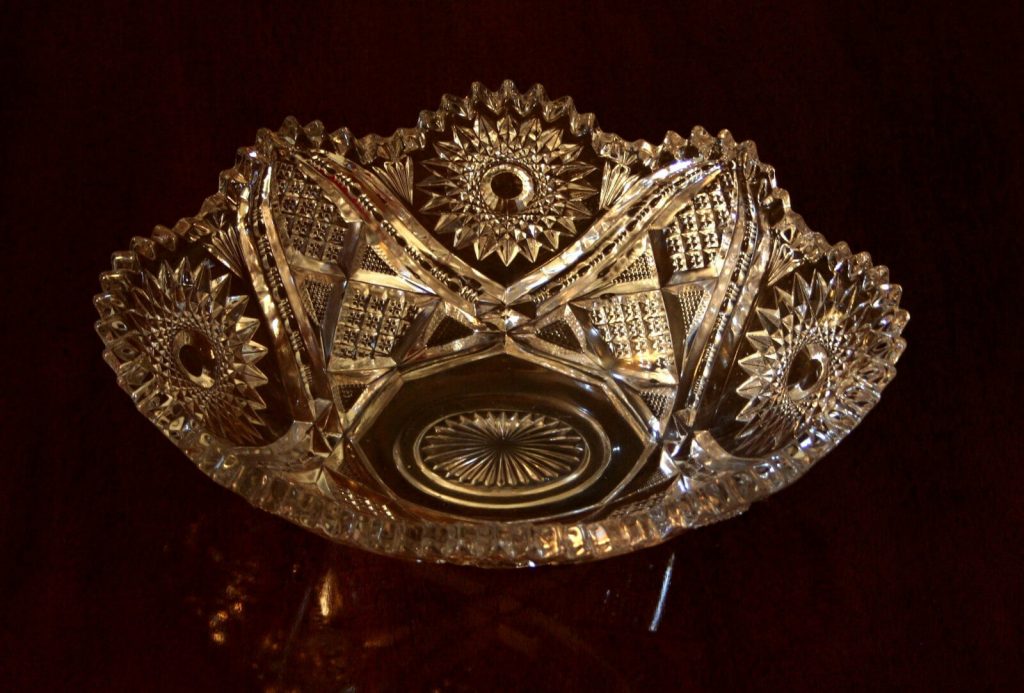 People don't often think of clear glass as depression glass, but it may be even more beautiful than colored glass. It was usually molded in faceted patterns that caught the light and made the table sparkle.
The mass production of pressed glass slowed as the U.S. edged into WWII and many manufacturers turned their machinery toward the war effort.
A few manufacturers still made small amounts of depression glass in the 1950's. Later, as collectors renewed an interest in depression glass, some of the original manufacturers resumed production, and other companies began making reproductions of the authentic glassware.
Much depression glass is not marked, making it difficult for the novice collector to distinguish between authentic antique pieces and reproductions.
Today's selling prices depend on the demand by collectors for certain patterns and colors, and the availability of the desired pieces.
Prices are also determined by where the glassware is being sold; parts of the Midwest demand the highest prices.
On the East Coast, where depression glass is not as desirable as a collectible as elegant glass, prices are usually more reasonable.
It's still possible to buy depression glass inexpensively to collect at flea markets, yard sales, and thrift shops.
You might even find an undiscovered treasure at one of these places!