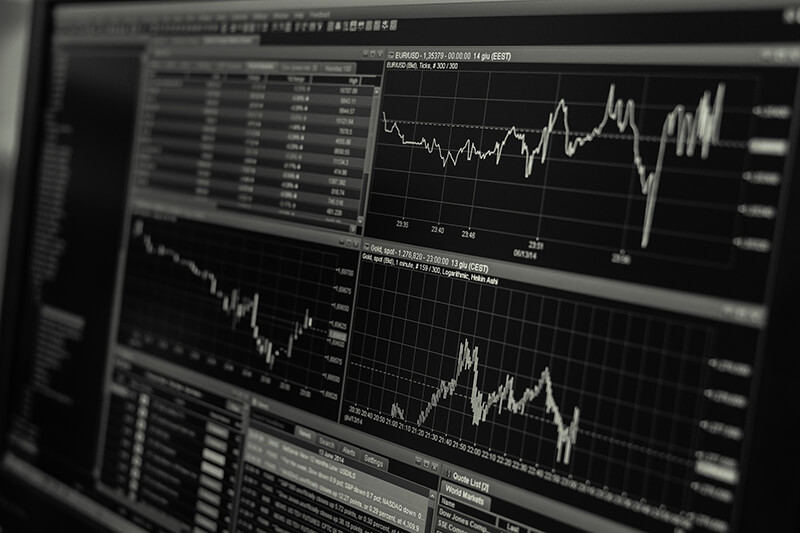 Stockbrokers are available to individuals or corporations who are interested in buying stock or bonds. They know about the different types of stocks and other investments that their clients can purchase.
Part of their job is to talk with clients and help them determine what investment products will help them reach their financial goals.
Stockbrokers will then buy their client's chosen stock and the paperwork to complete the transactions.
Stockbroker jobs, like most in the financial industry will require licenses to be able to sell investments.
If you have some skills with sales, have a desire to see you client succeed, and love pouring over financial and investment data, a career as a stockbroker may for you!
Stockbroker Jobs Prospects
Stockbrokers need to have a strong background in aspects of finance and investment. In addition, they must have solid skills in sales.
A large part of their job involves drawing in clients interested in stocks and investments and then buying them. Then, they sell these products on behalf of their clients in exchange for a fee.
Many brokerage houses and other places where stockbrokers are employed require that they meet sales quotas to stay employed.
An investment client pays a commission on each financial transaction executed by the stockbroker. Therefore, a stockbroker is required to look at a client's income, portfolio, financial objectives, and risk tolerance and base his investment suggestions on these criteria. Brokers must act in the client's best interest.
Sometimes referred to as a registered representative, a stockbroker should not be confused with an investment advisor. An advisor receives compensation for advice that he gives his clients regarding stocks, mutual funds, bonds, and other investments. A stockbroker registers themselves with the Securities and Exchange Commission. Another requirement is becoming a member of the Financial Industry Regulatory Authority (FINRA).
In addition, a broker must pass two exams: the Series 7 (General Securities Representative) and Series 63 (Uniform Securities Agent State Law Exam. A brokerage firm must also employ the stockbroker.
Stockbroker Responsibilities
Stockbrokers are responsible for getting in touch with prospective clients and providing them with information about the services available.
They can advise on the sale of stocks and bonds. Stockbrokers take care of the paperwork necessary in buying stocks and bonds on behalf of their clients. Dealing with people who have various degrees of knowledge and expertise in financial matters can be pretty stressful.
Other responsibilities, like customer service requires patience and the ability to communicate with the different temperaments of their clients. Hours can be long, and they may need to work evenings and weekends at times.
Putting together a client database is crucial to the success of a stockbroker. They often need to do a lot of cold calling to get new customers.
Some take advantage of networking with social groups and internet sources to increase their base. Getting referrals from satisfied clients is another popular way to get clients.
Stockbrokers provide services to clients on the telephone, computer, or in the office.
Career Skills Needed
To provide top-notch services, stockbrokers need to be solid and persuasive so customers will have confidence in the broker's recommendations to buy stocks and bonds.
Being detail-oriented is helpful because things can change quickly in the financial world. In addition, since a large part of the job is making cold calls, brokers have to communicate with people who have not been referred to them.
Good math skills are essential for a broker since he must show a client how the investment products may affect him.
Discount Stockbroker Work
If an aspiring stockbroker doesn't possess the skill for sales, an alternative career would be to work at a discount brokerage house. The job description for a discount broker isn't as onerous as a full service broker.
Here, they can serve walk-in clients with investment assistance, but they are usually paid a flat salary.
They can be trained in a wide variety of financial areas. In addition, they are usually involved in some administrative duties in the office, such as cashiering, new accounts, processing stock certificates, but they don't have the pressure of cold calling and meeting sales quotas.
Stockbroker Job Requirements
Requires a four-year bachelor's degree in finance, accounting, business or a closely related field.
The broker must be registered with (FINRA) the Financial Industry Regulatory Authority.
Should have a good understanding of how the financial market works.
Communication skills are important for this role.
The ability to deal with complicated data.
Analytical abilities are required.
Due to different time zones, employees might be required to work lengthy hours.
IT and math are both strong suits.
Ability to function in a stressful situation.
Estimated Salary for Recent Graduate
According to PayScale, the average yearly salary is $60,644 within a range of $40,000 to $138,000 overall. A junior broker position would be expected to fall within the lower range. New brokers will need time to build their book of business and recurring revenue.
That's not all. On top of that, commissions, bonuses, and profit sharing may add anywhere from $2,000 to $49,000 to your income.