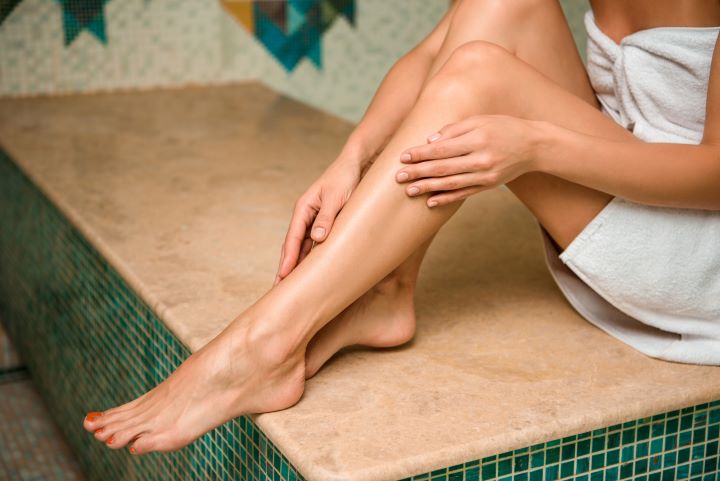 The Moroccan Hammam Experience
Morocco's culture is colorful and diverse, full of exotic scents and beautiful landscapes. The hammam, or public bathhouse, is no exception. Visiting a hammam is truly a delight for all five senses, and is an experience that should be prioritized by anyone visiting Morocco. However, outside of central Marrakesh, it is difficult to find a hammam staffed by English or French speakers, so unless you are fluent in Moroccan Arabic, the entire experience can be daunting and confusing. This handy guide explains the four main elements of a hammam and will equip you with the knowledge to experience this ancient tradition like a local.
Moroccan people tend to visit the hammam once a week for a thorough wash. This is because most houses in Morocco do not have showers or baths, or access to hot water. Instead, people rely on the deep clean of a hammam to keep them fresh and hygienic for a full week. A hammam clean takes between one and two hours, depending on how busy the bathhouse is, and the hammams range from very cheap and basic, to luxury.
Step 1 – The Wash
The first element of the hammam visit is the initial wash. An attendant will lead you into a large room, filled with taps, small stone basins, and plastic buckets. In this initial stage, the idea is to sluice water over your body and head, allowing your pores to open gently with the warmth of the water. This can last for between five and ten minutes, allowing you to enjoy the sensation of warm water running over your skin.
You may be uncomfortable at this stage considering that you will be in your underwear or even naked at this point. But don't worry, men and women have separate facilities within the hammam.
Step 2 – The Cleaning
After some time, an attendant will bring you a handful of Moroccan soap. This soap is very dark in color, with the texture of thick jelly, and contains Argon oil.
In stage two, you massage this soap into your body until it is almost absorbed, then head into the sauna or steam room. Sit or stand in the sauna for fifteen to twenty minutes.
The Argon oil soap, combined with the heat of the room, draws out any dead skin cells or toxins found in the pores of your skin, as you will see in the third stage.
There is usually a shower unit inside or just outside the sauna or steam room; take a quick shower before leaving to rinse the surface layer of soap and dead skin from your body.
In a very basic hammam, people tend to carry buckets of water to sluice over each other at this stage, as there is typically no shower facility.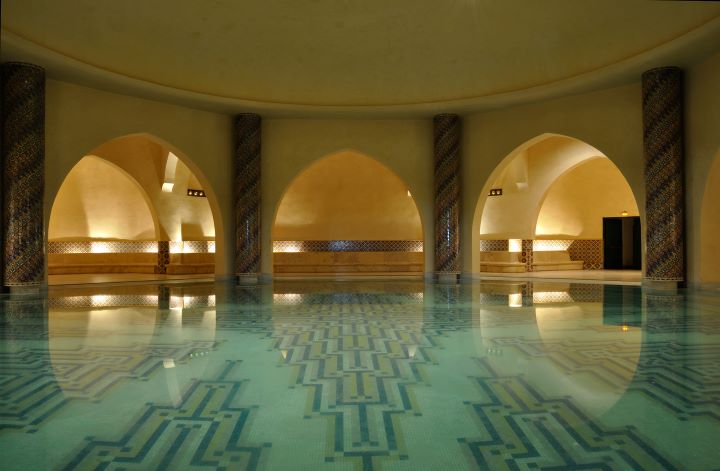 Step 3 – The Scrub
Stage three is an exfoliating scrub, which can cause slight discomfort for those with sensitive skin. The attendants will lay you on a stone table and rub your entire body thoroughly with a Moroccan exfoliating mitt.
You typically need to provide your own mitt as these cannot be shared between customers, but most hammams sell them at the reception desk.
The exfoliating experience can last for ten to fifteen minutes, and you will notice clumps of grey waste matter gathering on the stone table. This is the Argon soap mixed with dead skin and toxins, so the more grey matter, the more dead toxins you have sweated out.
You need to be naked during this stage, but you can wear underwear in stages one and two if this makes you more comfortable.
Step 4 – The Massage
The attendants will shower you with a handheld shower-head, before leading you to a new table for the final stage of the process. Using liquid soap or shower gel, an attendant will massage you thoroughly. The shower gel will be absorbed through your clean, open pores, causing your skin to hold the scent for days, or even a week.
In a very basic hammam, it is unlikely that you would find attendants to perform stages three and four. Instead, people scrub and massage each other, and rinse each other with buckets of water. It is also unlikely that you would find tables to lie on – you would sit or stand during these processes.
After the final stage, you will need to shower briefly to rid yourself of any last clumps of dead skin and to rinse the shower gel from your body. After this, the hammam experience is complete.
Visiting a hammam is an invigorating experience that leaves you feeling clean and rejuvenated for days. This guide has outlined the fundamental elements of a hammam visit, allowing you to prepare yourself for the experience and fully engage in the process.