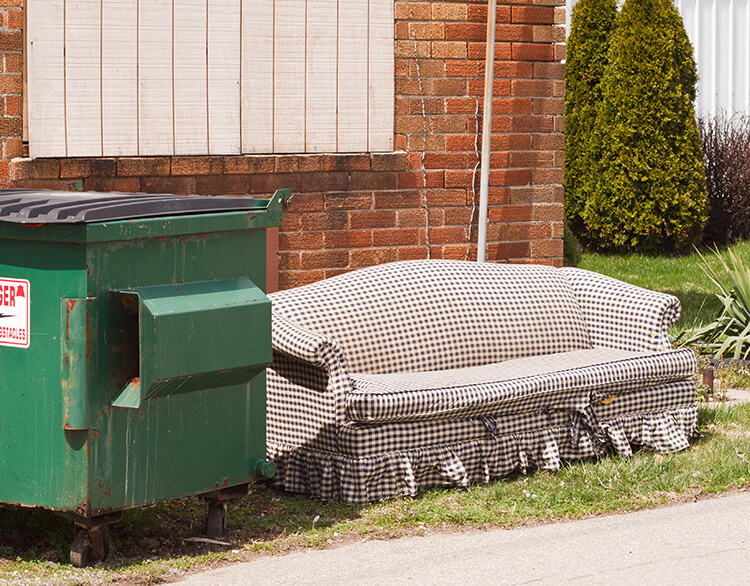 Becoming a flea market vendor can be a very profitable business if you have the time and patience and are willing to get a little dirty by spending hours searching in trash dumpster or cans, garages, or through piles of items that have been stored away for lengthy periods of time in a closet or attic.
It's a great idea for individuals who are interested in developing a small business but do not have a large amount of cash flow to get it off the ground and going.
Alternative product sourcing methods
---
Trash day treasures
The key to finding your treasure for flea market sales is to become familiar with the schedule of trash pick up for each area that you plan to visit. Oftentimes you will find furniture, small and large appliances, electronics, and especially lamps and vacuum cleaners sitting on the curb ready for pick up. Go ahead. You can be assured that you have the green light to take it, because the person who placed it there is not going to care about who picks it up, as long as it is removed from the premises.
Most likely it will not even be noticed that it has been taken, but if you feel uncomfortable, just ask the owners if it is okay to remove the item. After all, that is why it is on the curb to get rid of it.
When searching, you might want to visit the wealthy side of town first, where you will most likely find well-kept and new items for at a great price.
Advertise to haul away junk
If you own a truck and do not mind hauling people's junk away, then this is another way of finding items to sell in a flea market. Just call your local newspaper and ask for their guidelines for placing an ad in the paper to haul away people's "throw-a-ways."
Most times this ad is listed as a service and is free. You can also place brochures around town or leave them at business counters if it's okay with the business owner, or any other places that do not break any city ordinances.
Most regular trash pickups are on certain days while large item pick-up is on others. Many times large items will sit on curbs for days, maybe weeks before it is picked up by waste management.
This would be advantageous for this type of service because the recipient would be more than glad to have you come to take away the item(s).
Yard or garage sales
This is the most popular way to add items to your inventory for flea market vendors. Most garage or yard sales are held on Fridays and Saturdays. It cost nothing more than 50 cents or a dollar to buy a newspaper and scout out the yard sales for the weekend.
Plan your route and be ready to run the course on the day of the event and know what bargains that you are looking for. Your planning will save you time and unnecessary gas mileage usage. If you wait until the last 30 minutes or hour of the sale you would probably get an even more discount on the items. At this point, the seller is just ready to get rid of the merchandise.
Your house
The first place always to look is in your house. That can opener, coffee maker, or television set that was replaced a couple of months ago is still sitting out in the garage. If we look hard and long enough we will be surprised at how many items we can find that has been just sitting there right under our noses and not being used. Other items to look for include old cell phones, clothes, electronics, hand-held games, books, and you might even find a few collectibles among the pile.
Do not stop at your house but ask relatives about items that they no longer use. You will be surprised at how quickly and how much you can accumulate by just making a few telephone calls or texting a few messages.
Bargain or thrift store
Do not buy the first thing you see, but walk through the entire store and get feel for what is on display. Take your time and examine items.
Look for nicks, tears, if it is a clothing item, chips, and worn out areas. Have an idea of what the item will cost if it was new compared to the price that is marked for sale. Do not be afraid to negotiate. If the dealer is in the business of selling they will be willing to make a deal, especially if you let them know that the same item could be purchased elsewhere at a cheaper price.
End of season store sales
Another way to get items to sell for a flea market vendor is to shop the sales in the department stores at the end of a season. Sometimes you can buy loads of items that the store is trying to get rid of at very reasonable discounts.
The saying that 'someone else's junk may be someone else's treasures' can be applied to the process of gathering up of an inventory that practically cost you nothing, but at the same time, it is decent and enough to offer to the buyers at a price that will be profitable for you. You have to be innovative and bold in searching for product sourcing ideas that will more than benefit your inventory. They are bursting with bargains that you can sell for great profits as a flea market vendor.