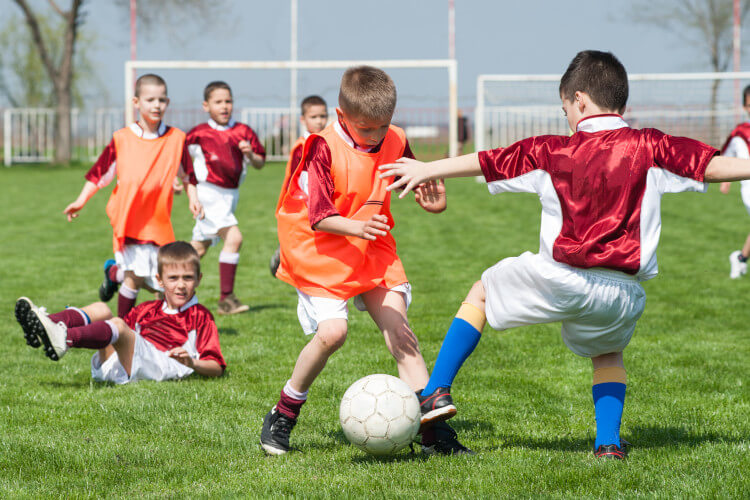 Soccer is a sport loved around the world! Because of this, if you have children you will most likely find yourself chopping up orange slices and searching the internet for solutions to fight stinky cleats. But what if you grew up playing shortstop instead of center mid?
I'm sure you have a million questions such as:
What are the age categories that play soccer?
Do kids and adults share the same field?
How long is a soccer field?
How can parents lead their children in the footsteps of great soccer players like Diego Maradona, Pele, or the current superstar Lionel Messi?
These are some of the questions we are going to emphasize in this article.
A Quick History
It is believed that soccer was invented some 2000 years ago, but most records conflict with who invented it. Some scholars propose that the Chinese were masterminds behind soccer, while others suggest Europe, specifically Rome, was the original founder of soccer.
Nonetheless, Englishmen have played a crucial role in catapulting soccer to its current status. They are the earliest pioneers of soccer rules and founding bodies.
FIFA (Fédération Internationale de Football Association) is the international body responsible for soccer affairs worldwide. It was founded in 1904, and since then, it has played a pivotal role in the realm of sports.
Soccer boasts a legion of fans of up to a quarter of the world's population. This wide fan base is a testimony to the love that people have for soccer. But, like any other hobby or game, soccer is nurtured from childhood, cultivated at youth, and enjoyed at a prime age!
General Knowledge of Professional Soccer
Professional soccer is categorized according to gender. Both men and women have teams or clubs which they play under. In many cases, you will find a men's soccer club has a ladies' equivalent. For instance, Arsenal, an English club, has both men and women clubs. The ladies' club is identified as Arsenal Women while the male club is known as Arsenal.
A total of 22 players, 11 on each side, play soccer on the field. The players are monitored by a center referee and two assistant referees known as linesmen or lineswomen. The referee ensures players follow the rules, and if by chance anyone breaks them, he or she is shown a yellow card (warning). If a player receives two yellow cards in a row, the second yellow card automatically sends them off. Also, if a player commits a grave offense, he is sent off without warning by being shown a red card.
Punishable offenses on the pitch, the official term for a soccer field, include tripping, fighting, or deliberately controlling a ball with your hands if you are not a goalkeeper.
Nowadays, FIFA regulations are so tough that the game is monitored using cameras, and the referee may refer to recorded video if he is unsure of his decision. Also, offenses such as tripping may call for a penalty which can result in the offending player receiving a card and the opponent team being awarded a free-kick which can convert to a goal if played properly.
General Soccer Information
Field Positions
In soccer, players are divided into different categories:
There is a goalkeeper on each side. As their name suggests, goalkeepers protect the goal.
Defenders ensure the other team's players won't come near the goal to score. There are generally 3-5 defenders depending on team configuration.
Mid-fielders connect defenders to strikers and can number 2-5 again depending on configuration. They are the major players in the field since they can either defend or launch attacks. Sometimes a coach may divide his middle fielders to form an attacking platoon that is directly involved in scoring goals or defending middle fielders who help defenders to fend off opponents.
Forwards bag the goals for a team. There are generally three forwards with one having the position of striker. Strikers are the most feared players in a team and most kids idolize them. They are quick and react very fast when a goal-scoring opportunity presents itself.
Kids and Teen Soccer
As a parent, you are responsible for helping your child to learn one of the greatest sports for both goys and girls. Before sending your kid to a training session, you need to understand where he fits the best according to his age. Also, knowledge of the kids' soccer field will help a lot in preparing your kid for the future.
Soccer Divisions
The soccer age division starts at under 6 (also called U6) and goes all the way to U21. Kids fall in the U8 to U6 categories, while teens fall in U12, U14, U16, and U18. The remaining categories are for experienced footballers.
Although there are U11, U13 teams for instance, often times travel clubs will only focus on even-numbers as it can be difficult to find enough kids to play at one age level. By combining two age levels coaches can usually find a good number of quality players.
U6  and U8 children play on a small field measuring 15 by 30 yards. It is the smallest of all soccer fields, and only a total of 6 kids are involved in the game. The game also lacks sophisticated rules and a goalkeeper. In fact, don't be surprised if you see twirling and cartwheels instead of a lot of passing!
Beginning with U10, your child will move up to 7 active players per team. A 7v7 pitch measures 55-65 x 35-45 yards with a small goal measuring 6′ x 18′. At this level, goalies are now a standard position on the roster.
Field measurements gradually increase with an increase in age  with the next jump at U12. Teams are configured in 9v9 and the field measures 70-80 x 45-55 yards, while the goal stands at 6′ x 18′.
The largest pitch in this category is found when kids move up to U13 and above and play 11v11. The field spans 80-120 yards in its length while the width is 55-75 yards.
Soccer Equipment for Your Kids
Soccer balls – see the next section for correct size.
Soccer cleats are essential for outdoor play. As long as they are worn correctly, soccer cleats provide supports and protect young one's feet.
Shin guards help reduce the chances of injury on the lower leg from errant kicks.
Uniforms ae standard for each team and bear the team's name and logo. Generally teams will have just one uniform unless they are playing travel or school ball when they will have both a home and away uniform.
Soccer socks are large socks that will cover the leg up to below the knee. These are generally coordinated to match uniforms.
Water bottles are essential to keep your child hydrated as soccer is a very active sport.
Sizes of Soccer Ball
The sizes of the ball are determined by its circumference and weight. Sizes range from 1 to 5 with the exception of 2.
• Size 1 – These balls are sometimes referred to as minis. They are the smallest in this category, with a circumference of 20 inches. However, they are mostly used as souvenirs rather than training.
• Size 3 – For U7 and below, this is the ball for your team. The circumference is only 24 inches, and they weigh less than 320 grams.
• Size 4 – This size ball is used by U8-U11 teams. Weighing about 390 grams it is a great ball to learn dribbling with and work on drills.
• Size 5 – This is the size used by U12 teams and up. It weights only 450 grams and is also the size used by professional teams.
Common Questions
Q: Why is a soccer ball black and white?
A: Soccer balls are painted black and white for easy visibility, especially on the screen of an outdated black and white TV.
Q: What does FC mean in soccer?
A: FC is an acronym for 'Football Club.'
Q: What is a red card in soccer?
A: A player who receives or is shown a red card is sent off the field and he cannot play the remaining part of the game.
Q: What does offsides mean in soccer?
A: This is one of the most confusing aspects of soccer – even to experienced parents. Offside occurs when a part of a player's body is in the opponent's half, excluding the halfway line or nearer to the goal than the second opponent or the ball. Basically it just means that a player needs to have a defender from the other team between him and the goal in order to receive the ball.
Q: What is a hat trick in soccer?
A: A hat trick occurs when a player scores three or more goals in a single match. In England, if a person scores a hat trick, he or she walks away with the ball at the end of the match.
---
Though the USA is a sports-oriented country, soccer is still not widely followed compared to basketball and American football.
But in recent years, the USA has been nurturing soccer talents, and we have even witnessed players like Christian Pulisic, alias Captain America, shine in soccer outside America in an English club, Chelsea.
Be sure to take a look at the USA Women's Team as well to witness some great soccer!