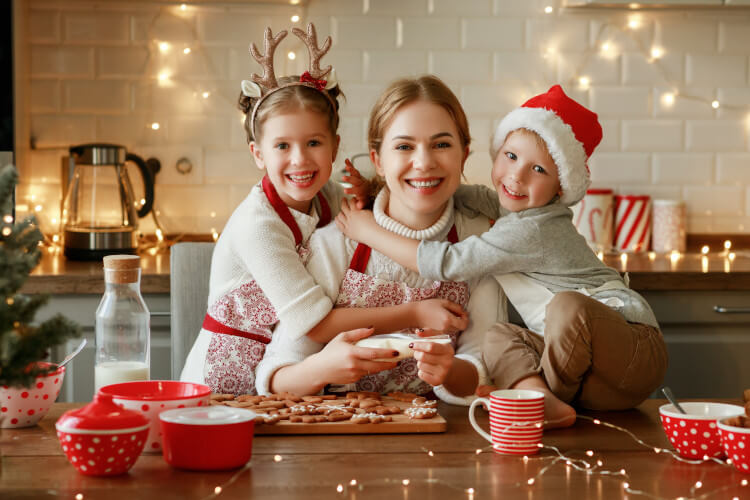 The holidays are a stressful time of the year. The pressure to find the perfect gift can add anxiety, and the cost of many items seems to skyrocket during December.
If you have a lot of people to buy gifts for or you need frugal ideas for presents, read on. Often, making presents for the ones you loved shows you care without breaking the bank.
Christmas Cookies
Many people bake cookies during the holiday season. The varieties are limited only by your imagination, and you can personalize them for anyone.
Also, most stores put baking supplies on sale between Thanksgiving and Christmas. If you stock up on shelf-stable supplies like flour and sugar when they are cheapest, you'll be ready for baking. Even if you aren't going to let kids near the oven,  you can let them in on the decorating.
Many of you will have a favorite family recipe that you will want to share with your family. But in case you don't, never fear! Start your own cookie tradition with some of these incredible recipes.
In addition to making memories, you'll have a story to tell when you present the cookies to their intended recipient.
Pre-made Cookie Dough
If you're short on time, you can purchase pre-made cookie dough at most grocery stores. The refrigerated section often has a range of holiday-themed cookie dough, from sugar to chocolate chip.
If you have more time, you can branch out and try different flavors, from pumpkin cookies to mint pillows. Keep in mind that many people have food allergies, and you will want to identify those before you get too creative.
Holiday Candy
If cookies seem like an overdone tradition, you can try making candy to give as gifts. If you need a simple idea, get candy melts and Christmas-themed candy molds.
Following the directions on the melts, prepare the candy and fill the molds. These candies typically form quickly, so that you can produce a large quantity.
If time permits, you can flavor these candies or paint details on the chocolates with more chocolate or icing.
You can also create candies like divinity. The supplies needed are often more involved, such as a candy thermometer. Use caution if children are going to be involved, as the sugar solutions usually must be kept at high temperatures.
The number of choices for Christmas candy can be overwhelming. Here are a few recipes for you to consider making with your family.
These candies make excellent gifts to share with your neighborhood this holiday season.
Gifting Other Christmas Treats
If you don't have the time to make the treats yourself, you can still gift homemade treats.
Preparing containers of dry goods you can mix into chocolate chip cookies, blondies, and other treats is an easy way to give some to your loved ones. You can layer the ingredients in the jars or have everything already mixed. Each container should have a label listing what you need to add to them, such as shortening or eggs, and baking instructions.
You can give the gift of homemade goods in a variety of ways. If you're looking to save even more money, you can re-purpose containers such as cookie tins.
An easy cost-cutting measure though is checking your local dollar store. During the holiday season, many stores sell cookie tins in a variety of sizes and shapes.
Craft stores also often have these tins or boxes that can hold the treats. If you get cardboard boxes, your family can decorate each of them, providing a personal touch.
Conclusion
Your options for holiday gift-giving and white elephant parties are limited only by your imagination. Discuss with your family who you are going to be baking for and decide what you would like to make.
Hit the sales after you make your list and get ready to bake! It's a delicious tradition that most people love and appreciate.