If you have started looking at ways to cut your expenses, you probably started with your biggest expense, housing. The next biggest expense on the list is usually the car. And one of the biggest costs of owning a car or truck is insurance.
What is the average car insurance premium? If you think your rates are high and there might be some room to lower your auto insurance monthly cost, it would be nice to see what people like you are paying.
Insurance rates are highly variable based on the risk profile of the insured, the vehicle covered and the coverages selected. We will look at the different risk and premium factors later. First, let's get a look at the averages.
The map below lists the median state average according to a 2017 report from the National Association of Insurance Commissioners built from 2013-2014 data. You calculate the state average by totaling the amount of liability, comprehensive and collision coverage divided by the number of insured vehicles. The average auto insurance premium across the whole United States was $866 in 2014.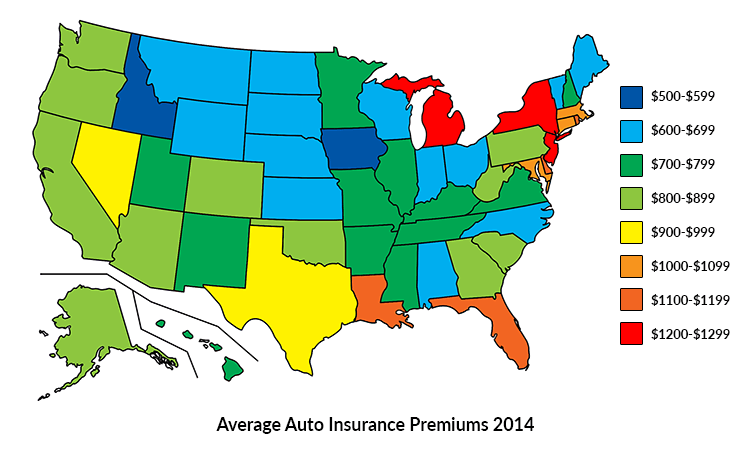 The 2014 insurance premium average for the U.S. was $866
The Factors that Decide Auto Insurance Premium
Demographics
Insurance companies have volumes of claims data that they can break down by demographic data. This information can include the age of the driver, location, marital status, and gender.
If the insurance actuaries see that single, 19-year-old males are statistically more likely to file a claim, then the premium for that profile will go up to match it.
Your garaging location can also play a part in your premium. Congested areas with heavy traffic have higher premiums than rural locales. Your state's history of insurance court cases can play a role as well. Districts that are known for "jackpot juries" can boost the potential for substantial claims and cause average premiums to rise.
The Insured Car
I'm sure you already know that cars are expensive these days. According to J.D. Power the average retail price of a new car in July 2017 was $30,772.
Insurance companies look at your car's make, model and year to determine your insurance pricing. The cost of the car isn't the only thing that will affect your rates. If you drive a sports car or off-road vehicle, expect to pay more for insurance than a comparably priced sedan or minivan.
Car customizations can push your premium higher too. Expensive stereos, speakers, DVD players, etc. are targets for thieves, and your insurance company will want compensation for the increased risk.
Contrary to popular belief, the color of your car does not impact your rates.
You can save money here by buying a used, well-maintained, standard model family car. Be sure to find one that has safety features like airbags, anti-theft devices, and anti-lock brakes. Your insurer may offer discounts for having them.
Driving Citations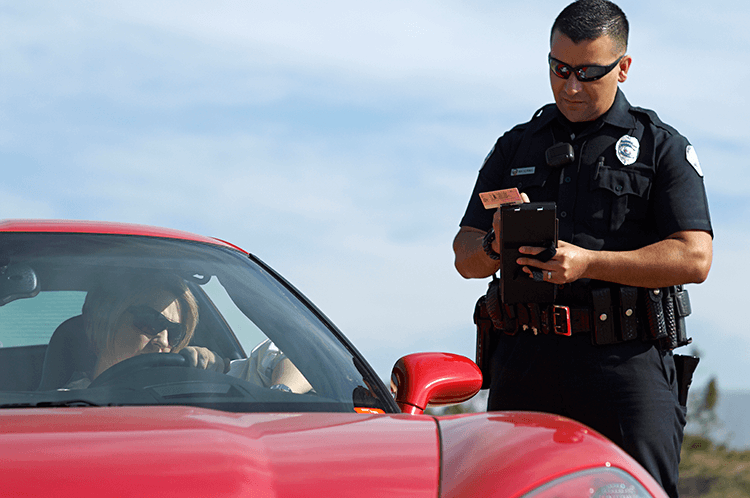 Insurance companies routinely pull data from state motor vehicle records. These are databases that list the status of your driver's license (suspensions, revokations) as well as any citations and traffic tickets.
I think it is fair to say that if you have multiple speeding tickets your rates will go up. If you have something as serious as a DUI, you may be canceled entirely.
You can save here by obeying the speed limit, keeping your drivers license current and never getting into the car after drinking.
Credit Score and Late Payments
It might not seem like it should matter, but having a low credit score can cause you to pay more for auto insurance. Higher credit score drivers are less likely to file a claim than those with low credit scores. Some states have outlawed the practice (MA, CA, HI) but it can affect your premiums in other states.
Did you know that your insurance company may raise your rate if you are late with your payments? They keep track of your payment history and view habitual late-payers as an increased risk. Insurers in most states are not required to give customers a grace period, and a late payment could cause you to lose coverage. Not a great thing if you have an accident during that time.
Failing to pay your bill on time may trigger a canceled policy notification to the state. The government can then fine you for not having coverage. Don't forget the late fees that the insurance company may charge you with as well.
You can save here by paying on-time and raising your credit score. Improving your credit score is not a quick solution, but it helps in many other ways than just car insurance.
Mileage and Vehicle Use
The more miles you put on your car each year means, the more chances you have to be involved in a wreck. Expect to pay more if you have a long commute than if you just take the car out for weekend drives.
Also, using the car for business use such as delivering pizzas or driving for Uber will cause higher premiums. Don't try to omit this information from your insurer if they ask either. If you file a claim and your insurance company finds out you used it for business they may have cause to reject it.
You can save here by driving less. Move closer to work, use public transportation or try to work from home.
Coverages Selected and Their Limits
Liability coverages (Bodily Injury and Property Damage) are required when you purchase car insurance. Comprehensive and Collision may also be required by your financing company if your car isn't paid for yet. But there are a lot of other coverages you may be paying for that you can reduce the limits on or cancel entirely.
Some examples of coverages that you might want to get rid of or reduce are:
| | |
| --- | --- |
| Loss of Use | Pays rental fees when your car is in the shop. May be mandatory in some states. |
| Loss of Income | Can pay lost wages after you are injured in a wreck. |
| Comprehensive | Covers perils such as theft, vandalism, glass breakage, fire or flooding. |
| Collision | Covers the repair or replacement of your car if involved in a wreck with another car or an object. If your car isn't worth a lot of money it might be better to save up enough to replace it outright and drop this coverage. |
| Towing | Will reimburse your towing and roadside assistance costs. |
| Uninsured / Underinsured Motorist | Your insurance company will pay in the event the at-fault driver either isn't insured or doesn't have enough coverage to fully satisfy your damages. This coverage may be mandatory in some states. |
If your risk tolerance is high enough, check with your agent and see about dropping any of the optional coverages above. They can also quickly run a quote with lower coverage amounts. If you are already in their policy administration system it usually won't take long to get this information.
Finding Auto Insurance Discounts
It can be very beneficial to do a little research and find out if you are eligible for some discounts on your auto insurance. These might not have been offered to you when you purchased your policy, or your circumstances may have changed since then. It pays to check them out.
Honor Student Discount
Youthful drivers, especially male teens have huge insurance costs. If your teen or young adult makes the honor roll at school and receives a certificate, your insurance company may cut you a break.
Defensive Driver Training
You may be able to save money by attending a defensive driver class. Most states actually require insurance companies to provide this discount.
Home/Auto Combination
Most insurance companies will offer a discount if you bundle your home and auto coverage.
Length of Service Discounts
To encourage you to stay with the company, your insurer will most likely offer discounts for being a long-time customer. These lower rates may kick in at 3 or 5 years.
Safety Features
I mentioned these above, but if your car has anti-lock brakes, airbags or anti-theft devices such as an alarm, you may be entitled to a discount.
Payment Discounts
Your insurance company may reduce your premium if you agree to pay in full or quarterly.
Ask Your Agent
There may be other discounts offered by your insurance company. It does not hurt to ask your agent. They will be happy to run a quote for you and see if they can lower your premium and keep your business.